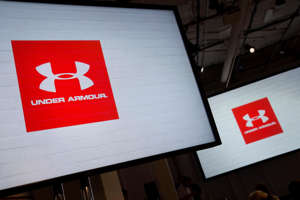 © Jin Lee/Bloomberg/Getty Images Under Armour Inc. signage during a news conference in New York.
Since the darkest days of the financial crisis, stocks have been on an almost unconstrained tear to the top.
The Nasdaq (.IXIC) has soared 285 percent, the S&P 500 (.SPX) is up nearly 210 percent and the Dow industrials (.DJI) have surged 172 percent since the market bottomed on March 9, 2009. That was when it looked like the world was ending and the stock market was little more than a black hole that countless dupes had shoveled money into.
Since then, markets have rallied for a number of reasons, not the least being the Federal Reserve's willingness to push nearly $ 4 trillion of liquidity into the markets and keep interest rates near zero as part of an easy monetary policy on a level never seen in the U.S.
Gaudy as the numbers sound for the major indexes, some individual stocks have done even better.
Some 32 stocks in the S&P 500 and another 13 in the Nasdaq have been what legendary investor Peter Lynch dubbed "ten baggers," or investments that increased by 10 times their value, or 1,000 percent, during the six-year bull market recovery, according to numbers from Bespoke Investment Group and FactSet.
(No, Apple hasn't been one of them. The tech giant during the period gained 952 percent as of midday trading Tuesday.)
The companies range from old-line firms like CBS (CBS) to surprises such as Sirius XM (SIRI), which had been trading at 12 cents a share back in late 2008.
No Dow 30 company made the cut, though many have turned in outsized performances. American Express (AXP) is up 657 percent, Walt Disney (DIS) has climbed 575 percent and United Health (UEEC) has surged 544 percent.
A look at the "ten baggers" from the S&P 500 and Nasdaq, which on Tuesday marked the 15th anniversary of its historic peak:
General Growth: 10,116%
Regneron: 3,332%
United Rentals: 2,904%
Wyndham Worldwide: 2,817%
Under Armour: 2,329%
L Brands: 1,878%
CBS: 1,850%
Seagate Technology: 1,667%
Gannett: 1,679%
Priceline: 1,422%