U.S. stock futures are higher in pre-market trading for wednesday, February 14. The Nasdaq Futures are trading at 6,687.00 for up with +1.93% percent or +126.50 point.The S&P 500 Futures are trading at 2,697.75 for up with +1.35% percent or +36.00 point.The Dow Futures are trading at 24,863.00 for up with +0.96% percent or +237.00 point.
In overnight trading in the Eastern Hemisphere,Japan's Nikkei 225 are trading at 21,154.17   with a loss of –0.43% percent or  –90.51 point. Hong Kong's Hang Seng are trading at 30,515.60 for up with +2.27% percent or +676.07 point. China's Shanghai Composite are trading at 3,199.16 for up with +0.45% percent or 14.20 point. India's BSE Sensex are trading at 34,155.95 with a loss of –0.42% percent or  –144.52  point at 12:15 PM..The FTSE 100 are trading at 7,213.97 for up with +0.64% percent or  +45.96 point. Germany's DAX are trading at 12,339.16 for up with  +1.17% percent or  +142.66 point. France's CAC 40 are trading at 5,165.26 for up with +1.10% percent or +56.03 point. The Stoxx Europe 600 are trading at 374.53 for up with +1.07% percent or +3.95 point.
Wednesday's Factors and Events
After years of falling behind peers, Walmart (NYSE: WMT) is suddenly cool again. Last year, analysts noted the company's brand reputation has improved, most notably with the key millennial demographic. Walmart's online efforts are a large reason for its success. Since paying $3.3 billion for millennial-friendly website Jet.com, acquiring that site's CEO Marc Lore in the process, Walmart has continued to rapidly grow sales from its digital channel.
More recently, Walmart has aggressively attempted to steal market share from Amazon , even going as far as making a millennial-friendly private-label grocery brand , Uniquely J, and teaming with Japanese company Rakuten to sell tablets that compete with Amazon's Kindle line. Walmart's newest acquisition could possibly change the shopping experience and pressure the entire retail industry.
Tuesday's Activity
U.S. market were higher on Tuesday. For the day the Dow Jones Industrial Average closed at 24,901.49 for up with  +1.06% percent or +261.04 point. The S&P 500 closed at 2,697.06 for up with +1.28% percent or  34.12 point. The Nasdaq Composite closed at 7,150.01 for up  with +1.95% percent or +136.50 point.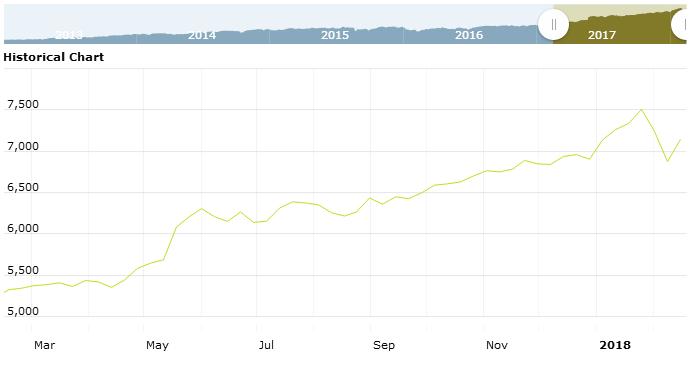 Other leading market index closes included the small-cap Russell 2000 Index closed at 1,520.20 for up with +1.70% percent or +25.49 point; the S&P 600 Small-Cap Index closed at 929.36 for up  with +1.82% percent or +16.57 point; the S&P 400 Mid-Cap Index closed at 1,874.77 for up with +1.72% percent or  +32.77 point; the S&P 100 Index closed at  1,876.72 for up with +1.79% percent or +32.99 point; the Russell 3000 Index closed at 1,594.30 for up with +1.45% percent or  +22.78point; the Russell 1000 Index closed at 1,495.00 for up with +1.44% percent or +21.53 point; and the Dow Jones U.S. Select Dividend Index closed at  24,893.49 for up with +1.03% percent or  +253.04 point.