U.S. stock futures are higher in pre-market trading for Wednesday, March 07.The Nasdaq Futures are trading at 6,845.25  with a loss of -0.97% percent or -67.00 point. The S&P 500 Futures are trading at 2,697.50 with a loss of -0.97%  percent or -26.50 point.The Dow Futures are trading at 24,546.00  with a loss of -1.23% percent or -306.00 point.
In overnight trading in the Eastern Hemisphere, Japan's Nikkei 225 are trading at 21,252.72   with  a loss of  -0.77% percent or  -165.04 point. Hong Kong's Hang Seng are trading at 30,238.55  with a loss of -0.89% percent or  -272.18 point. China's Shanghai Composite are trading at 3,271.67  with  a loss of -0.55% percent or  -17.97 point. India's BSE Sensex are trading at 33,146.28 with  a loss of -0.51% percent or  -170.92  point at 12:15 PM.The FTSE 100 are trading at 7,146.84   with 0.00% percent or  +0.09 point. Germany's DAX are trading at 12,070.25  with a loss of -0.36% percent or -43.62 point. France's CAC 40 are trading at 5,144.68  with a loss of -0.49% percent or -25.54 point. The Stoxx Europe 600 are trading at 370.01  with a loss of -0.34% percent or -1.30 point.
Wednesday's Factors and Events
 one drawback of Canada's cannabis success, at least for U.S. investors, has been the need to turn to the over-the-counter (OTC) market, which is where Canadian pot stocks are usually listed, in order to take advantage of this expected legalization and industry expansion. While the OTC boards have made significant regulatory strides over the past decade, liquidity, and access to up-to-date financial information, can occasionally be challenging. That's why most institutional and seasoned investors prefer to keep their money on reputable exchanges, such as the NYSE or Nasdaq (NASDAQ: NDAQ) .
However, cannabis investment firm Cronos Group (NASDAQ: CRON)  is pioneering a shift that could get more Americans involved in the Canadian green rush. On Feb. 27, Cronos Group uplisted from the Nasdaq International Designation program, where it traded under the "PRMCF" ticker symbol, to the Nasdaq Global Market. It now can be found under the "CRON" ticker symbol. Though there are other cannabis companies listed on the Nasdaq Global Market, such as cannabinoid-drug developer GW Pharmaceuticals , Cronos becomes the first Canadian marijuana stock to have uplisted from Nasdaq International, and it wouldn't be surprising if others followed suit.
Tuesday's Activity
U.S. market were higher on Tuesday. For the day the Dow Jones Industrial Average closed at 24,884.12  for up with  +0.04% percent or +9.36 point. The S&P 500 closed at 2,728.12  for up with +0.26% percent or +7.18 point. The Nasdaq Composite closed at 7,372.01 for up with +0.56% percent or  +41.30 point.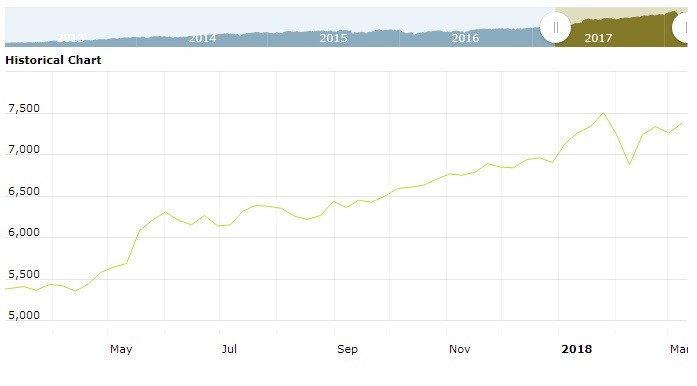 Other leading market index closes included the small-cap Russell 2000 Index closed at 1,562.20  for up with +1.04% percent or +16.16 point; the S&P 600 Small-Cap Index closed at 949.83  for up  with +1.10% percent or +10.37 point; the S&P 400 Mid-Cap Index closed at 1,916.99 for up with  +1.02% percent or +19.32 point; the S&P 100 Index closed at 1,202.54  for up with +0.05% percent or +0.65 point; the Russell 3000 Index closed at 1,614.57  for up with +0.37% percent or +5.96 point; the Russell 1000 Index closed at 1,511.92  for up with +0.32% percent or +4.76 point; and the Dow Jones U.S. Select Dividend Index closed at 24,884.12  for up  with +0.04% percent or  +9.36 point