U.S. stock futures higher  in pre-market trading for Tuesday, August 21.The Nasdaq Futures is trading at 7,402.25 up with +0.21% percent or +15.25 point.The Dow Futures is trading at 25,806.00 up with +0.19% percent or +48.00 point.The S&P 500 Futures is trading at 2,863.00 up with +0.16% percent or  +4.50 point.
In overnight trading in the Eastern Hemisphere, Japan's Nikkei 225 is trading at 22,219.73 up with +0.093% percent or +20.73 point. Hong Kong's Hang Seng is trading at 27,681.15 up with +0.30% percent or +83.13 point. China's Shanghai Composite is trading at 2,734.23 up with +1.33% percent or  +35.76  point. India's BSE Sensex is trading at 38,263.51  with a loss of -0.040% percent or -15.24 point at 12:15 PM.The FTSE 100 is trading at 7,585.49  with a loss of  -0.076% percent or -5.77 point. Germany's DAX is trading at 12,407.13  up with +0.61% percent or +75.83  point. France's CAC 40 is trading at 5,417.99 up with +0.71% percent or +38.35 point. The Stoxx Europe 600 is trading at 384.54 up with +0.34% percent or +1.32 point.
Tuesday's Factors and Events
Investors remain cautious, however, after an interview President Donald Trump had with Reuters. On Monday, the U.S. leader told the news agency that he wasn't expecting much progress from trade discussions with China. This week's meeting comes as fresh tariffs from the States on $16 billion of Chinese goods are due to come into effect this week, with Beijing having imposed the same amount of retaliatory levies on the U.S.
Sticking with the same interview, Trump went onto deliver his thoughts about the U.S. central bank. During the conversation, the U.S. president revealed that he would continue to criticize the U.S. institution, if it persisted with raising interest rates. Trump added that the Fed should do "what's good for the country."
U.S. market were higher on Monday.For the day  Nasdaq Composite is trading at 7,774.12 up with +0.060% percent or +4.68 point. the Dow is trading at 25,758.69 up  with +0.35% percent or +89.37 point. The S&P 500 is trading at 2,857.05  up with +0.24% percent or +6.92 point.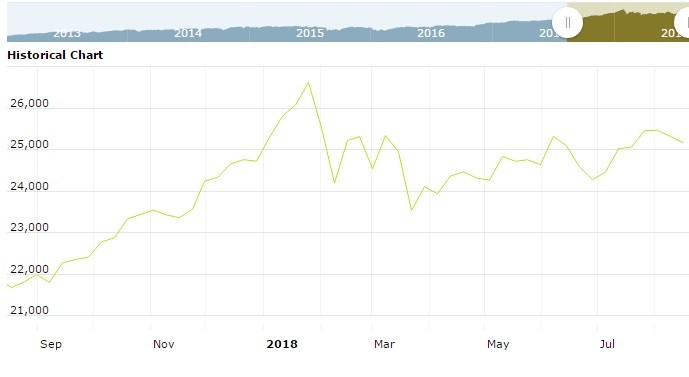 Other leading market index closes included the small-cap Russell 2000 Index closed at 1,698.69 up with +0.34% percent or +5.75 point; the S&P 600 Small-Cap Index closed at 1,076.42 up with +0.36% percent or + 3.83 point; the S&P 400 Mid-Cap Index closed at 2,018.44 up with +0.41% percent or +8.25 point; the S&P 100 Index closed at 1,264.24  up with +0.15% percent or +1.92 point; the Russell 3000 Index closed at 1,697.07  up with +0.26%percent or +4.44 point; the Russell 1000 Index closed at 1,584.60 up with +0.26% percent or +4.05 point;