U.S. stock futures mixed  in pre-market trading for Thursday, August 23.The Nasdaq Futures is trading at 7,429.75  with a loss of -0.05% percent or -1.75 point.The Dow Futures is trading at 25,721.00  up with  +0.02% percent or  +4.00 point. The S&P 500 Futures is trading at 2,862.25  up with +0.03% percent or  +1.00 point.
In overnight trading in the Eastern Hemisphere, Japan's Nikkei 225 is trading at 22,410.82 up with +0.22% percent or +48.27 point. Hong Kong's Hang Seng is trading at 27,795.10 with a loss of -0.47% percent or  -132.48 point. China's Shanghai Composite is trading at 2,724.62 up with +0.37% percent or +10.02  point. India's BSE Sensex is trading at 38,329.75  up with +0.11% percent or  +44.00  point at 12:15 PM.The FTSE 100 is trading at 7,573.63   with a loss of  -0.0081% percent or -0.61 point. Germany's DAX is trading at 12,378.12  with a loss of -0.061% percent or -7.58  point. France's CAC 40 is trading at 5,428.22 up with +0.14% percent or +7.61 point. The Stoxx Europe 600 is trading at 384.49 up with +0.12% percent or +0.43 point.
Thursday's Factors and Events
The stock market's astounding surge from the depths of the Great Recession is hitting a major milestone: It's the longest bull run in modern history.
This surge, which earlier this year turned nine years old, has been going strong for 3,453 days and has surpassed the famed dot-com 1990s rally which ultimately ended with the bursting of the tech bubble in 2000.
Famed investor Benjamin Graham, author of The Intelligent Investor, once said, "In the short run, the market is a voting machine but in the long run it is a weighing machine," meaning that voting machines count sentiments or opinions, which can change at any given time. Weighing machines, on the other hand, can measure value more accurately.
U.S. market were mixed on wednesday.For the day The Nasdaq Composite is trading at 7,889.10 up with +0.38% percent or +29.92  point.the Dow is trading at 25,733.60 with a loss of  -0.34% percent or -88.69 point. The S&P 500 is trading at 2,861.82 with a loss of -0.040% percent or -1.14 point.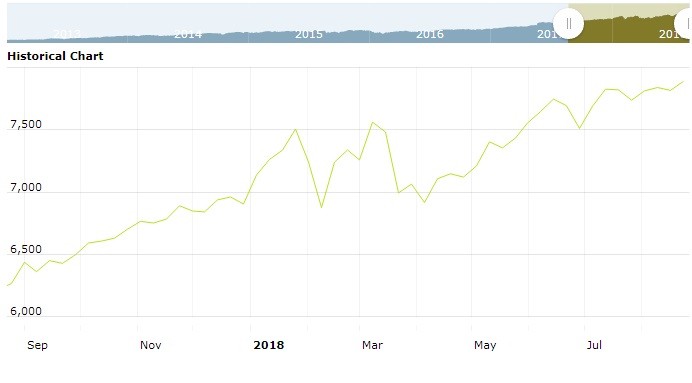 Other leading market index closes included the small-cap Russell 2000 Index closed at 1,722.54 up with +0.26% percent or +4.50 point; the S&P 600 Small-Cap Index closed at 1,091.20 up with +0.16% percent or +1.79 point; the S&P 400 Mid-Cap Index closed at 2,034.49 with a loss of -0.0088% percent or -0.18 point; the S&P 100 Index closed at 1,267.09 up with +0.043% percent or +0.55 point; the Russell 3000 Index closed at 1,702.76 up with +0.0072% percent or +0.12 point; the Russell 1000 Index closed at 1,588.52  with a loss of -0.014% percent or -0.22 point;