U.S. stock futures higher  in pre-market trading for Wednesday, September 26.The Nasdaq Futures is trading at 7,614.00  up with  +0.25% percent or +18.75 point.The Dow Futures is trading at 26,572.00  up with  +0.20% percent or  +52.00 point.The S&P 500 Futures is trading at 2,927.50  up with  +0.21% percent or +6.25 point.
In overnight trading in the Eastern Hemisphere, Japan's Nikkei 225 is trading at 24,033.79 up with +0.39% percent or +93.53 point. Hong Kong's Hang Seng is trading at 27,840.95 up with +1.24% percent or  +341.56 point. China's Shanghai Composite is trading at 2,806.81  up with +0.92% percent or  +25.67 point. India's BSE Sensex is trading at 36,542.61 with  a loss of -0.30% percent or -109.45 point at 12:15 PM.The FTSE 100 is trading at 7,510.00 up with +0.032% percent or +2.44 point. Germany's DAX is trading at 12,349.78  with a loss of – 0.20% percent or -24.88 point. France's CAC 40 is trading at 5,494.66  up with +0.28% percent or  +15.56 point. The Stoxx Europe 600 is trading at 383.98  up with  +0.02% percent or +0.09  point.
Wednesday's Factors and Events
A longstanding bond trade has been put on ice thanks to a changing climate in the U.S. Treasury market, which is being buffeted by a flood of supply and a drought in volatility.
The premium typically commanded by the newest vintage of Treasuries, so-called on-the-run bonds, over their older, or off-the-run, counterparts has been squeezed by these two forces to historically low levels.
You've seen a serious pullback from a lot of Treasury traders, especially relative-value traders in terms of the amount of balance sheet that they're allocating to U.S. Treasury strategy because everything is so close to fair," said David Rice, head of relative-value arbitrage at the Gelber Group.
For the day The Nasdaq Composite is trading at 8,007.47  up with  +0.18% percent or +14.22 point.the Dow is trading at 26,492.21  with a loss of  -0.26% percent or -69.84 point. The S&P 500 is trading at 2,915.56 with a loss of -0.13% percent or -3.81 point.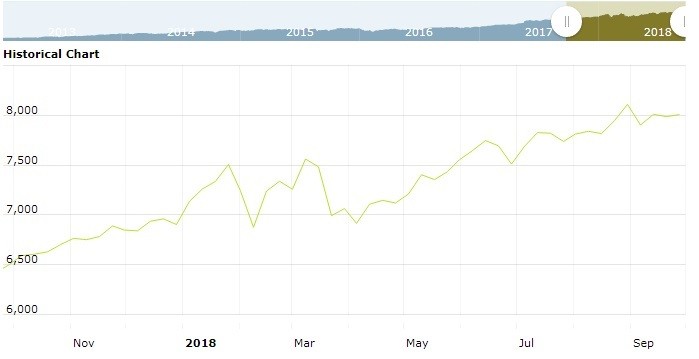 Other leading market index closes included the small-cap Russell 2000 Index closed at 1,708.80 up  with +0.20% percent or +3.49  point; the S&P 600 Small-Cap Index closed at 1,067.66 up with +0.088% percent or  +0.94 point; the S&P 400 Mid-Cap Index closed at 2,030.62  with a loss of -0.076% percent or ?1.55 point; the S&P 100 Index closed at 1,293.91  with  a loss of -0.062% percent or -0.80  point; the Russell 3000 Index closed at 1,728.85  with  a loss of -0.075% percent or  -1.30 point; the Russell 1000 Index closed at 1,615.94 with  a loss of -0.098% percent or -1.58 point;