U.S. stock futures lower  in pre-market trading for , December 04.The Nasdaq Futures is trading at 7,024.50  with a loss of -2.47% percent or -33.75 point.The Dow Futures is trading at 25,725.00  with a loss of -0.47% percent or -121.00 point. The S&P 500 Futures is trading at 2,781.50  with a loss of -0.33% percent or -9.25 point.
In overnight trading in the Eastern Hemisphere, Japan's Nikkei 225 is trading at 22,036.05 with a loss of -2.39% percent or -538.71 point. Hong Kong's Hang Seng is trading at 27,169.57   with  a loss of -0.046% percent or -12.47 point. China's Shanghai Composite is trading at 2,665.96 up with +0.42%  percent or  +11.16 point. India's BSE Sensex is trading at 36,065.91  with a loss of  -0.47% percent or -170.81 point at 12:15 PM.The FTSE 100 is trading at 7,028.82  with a loss of  -0.48% percent or -33.59 point. Germany's DAX is trading at 11,403.84 with a loss of -0.54% percent or -61.62 point. France's CAC 40 is trading at 5,032.89 with a loss of -0.42% percent or -21.09  point. The Stoxx Europe 600 is trading at 360.20   with a loss of  -0.28% percent or -1.03 point.
Tuesday's Factors and Events
The U.S. and China over the weekend agreed at the G-20 summit in Argentina to hold off on any additional tariffs on each other's goods on January 1, in order to allow trade talks to continue.
But discrepancies over when that truce would begin has led to confusion. While President Donald Trump's economic advisor, Larry Kudlow, told reporters Monday that the cease-fire would start from January 1, the White House later issued a corrected statementsaying that the 90-day truce period would start on December 1.
Monday's Activity
For the day The Nasdaq Composite is trading at 7,441.51  up with +1.51% percent or +110.98 point. the Dow is trading at 25,826.43  up with +1.13% percent or +287.97 point. The S&P 500 is trading at 2,790.37 up  with +1.09% percent or +30.20 point.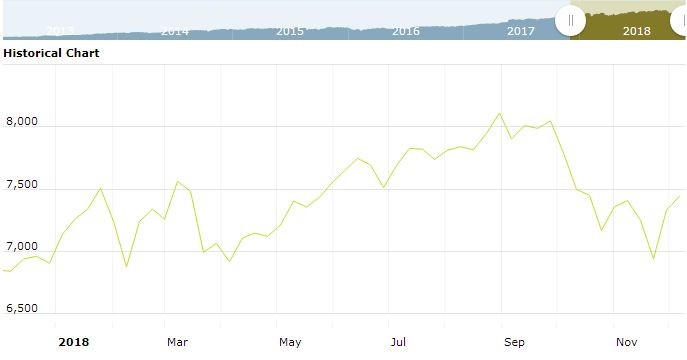 Other leading market index closes included the small-cap Russell 2000 Index closed at 1,548.96 up with +1.02% percent or +15.69  point; the S&P 600 Small-Cap Index closed at 969.77 up with +0.71% percent or +6.82 point; the S&P 400 Mid-Cap Index closed at 1,895.32 up with  +0.89% percent or +16.67 point; the S&P 100 Index closed at 1,238.63 up with +1.10% percent or +13.44 point; the Russell 3000 Index closed at 1,643.90  with +1.10% percent or +17.91 point; the Russell 1000 Index closed at 1,542.45  up with +1.11% percent or +16.89 point;