U.S. stock futures lower  in pre-market trading for , December 07.The Nasdaq Futures is trading at 6,802.50 with a loss of  -0.32% percent or -20.00 point.The Dow Futures is trading at 24,833.00  with a loss of -0.30% percent or -74.00 point.  The S&P 500 Futures is trading at 2,682.62 with a loss of -0.31% percent or -8.38 point.
In overnight trading in the Eastern Hemisphere, Japan's Nikkei 225 is trading at 21,678.68 up with +0.82% percent or +177.06 point. Hong Kong's Hang Seng is trading at 26,166.40  up with +0.038% percent or +10.02 point. China's Shanghai Composite is trading at 2,605.89 up with  +0.027% percent or  +0.71 point. India's BSE Sensex is trading at  35,516.54 up with +0.58% percent or +204.99 point at 12:15 PM.The FTSE 100 is trading at 6,808.57  UP with +1.56% percent or -104.52 point. Germany's DAX is trading at 10,896.40  up with 0.79% percent or +85.42 point. France's CAC 40 is trading at 4,845.77 up  with +1.37% percent or -65.32 point. The Stoxx Europe 600 is trading at 347.84  up with +1.33% percent or +1.33% point.
Friday's Factors and Events
Jitters in stock markets in the past few weeks have also weighed on traders, leading to increased buying in typically safe haven assets like government bonds and gold. However, recently, the bond market has been under particular scrutiny as the spread between the 2-year and 10-year yields has narrowed recently. This phenomenon, described as flattening of the yield curve, is often interpreted as a warning signal of an upcoming financial crisis.
Elsewhere, a report on the Wall Street Journal suggested on Thursday that the Federal Reserve is considering whether to signal a wait-and-see approach at its upcoming meeting. Investors are anticipating the Federal Reserve's meeting on Dec. 18.-19.
Thursday's Activity
For the day The Nasdaq Composite is trading at 7,188.26  up with +0.42% percent or +29.83 point. the Dow is trading at 24,947.67 with a loss of -0.32% percent or -79.40 point. The S&P 500 is trading at 2,695.95 with a loss of – 0.15% percent or -4.11 point.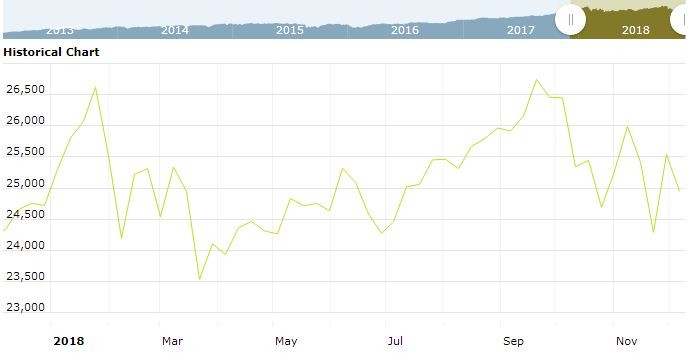 Other leading market index closes included the small-cap Russell 2000 Index closed at 1,477.41 with a loss of -0.23% percent or ?3.34 point; the S&P 600 Small-Cap Index closed at 922.43  with a loss of -0.28% percent or -2.63 point; the S&P 400 Mid-Cap Index closed at 1,817.48  with a loss of – 0.50% percent or -9.14 point; the S&P 100 Index closed at 1,196.20  with a loss of -0.11% percent or -1.28 point; the Russell 3000 Index closed at 1,587.18 with a loss of -0.12% percent or -1.89 point; the Russell 1000 Index closed at 1,490.64 with a loss of -0.11% percent or -1.66  point;