U.S. stock futures higher  in pre-market trading for , January 15.The Nasdaq Futures is trading at 6,570.75  up with +0.39% percent or +25.75 point.The Dow Futures is trading at 23,937.50 up with +0.30% percent or +70.50 point.  The S&P 500 Futures is trading at 2,586.12  up with +0.22% percent or +5.62 point.
In overnight trading in the Eastern Hemisphere, Japan's Nikkei 225 is trading at 20,555.29  up with +0.96% percent or +195.59 point. Hong Kong's Hang Seng is trading at 26,781.45  up with +1.84% percent or +83.12 point. China's Shanghai Composite is trading at 2,570.07 up  with +1.35% percent or  +34.30 point. India's BSE Sensex is trading at 36,203.42  up with +0.98% percent or +349.86 point at 12:15 PM.The FTSE 100 is trading at 6,876.57  UP with  +0.31% percent or +21.55 point. Germany's DAX is trading at 10,866.26   up  with +0.095% percent or +10.35 point. France's CAC 40 is trading at 4,773.51   up with +0.23% percent or +10.76 point. The Stoxx Europe 600 is trading at 348.15 up with +0.18% percent or +0.64 point.
Tuesday's Factors and Events
U.S. stock futures pointed to a rebound on Tuesday, as positive headlines around China alleviated fears of an impending slowdown in the world's second-largest economy.
Chinese Premier Li Keqiang said that the government was seeking to establish conditions to help meet its economic goals for 2019, Reuters reported, citing Chinese state television.
Wall Street appeared to track the upbeat sentiment in Europe and Asia. Indexes in both continents were mostly higher on the back of hopes that China would introduce more measures to support its weakening economy.
Monday's Activity
For the day The Nasdaq Composite is trading at +6,905.92 with a loss of -0.94% percent or -65.56 point.the Dow is trading at 23,909.84 with a loss of -0.36% percent or -86.11 point. The S&P 500 is trading at 2,582.61  with a loss of -0.53% percent or -13.65 point.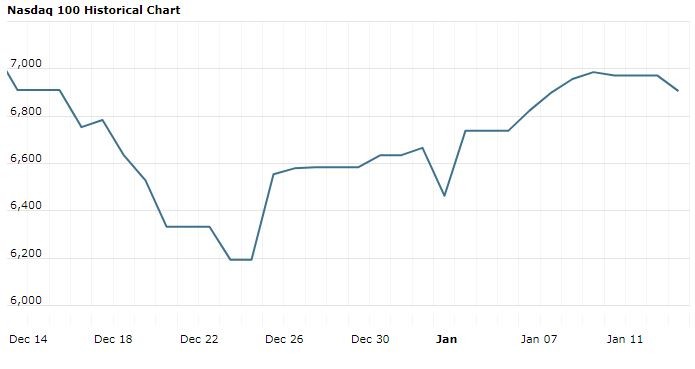 Other leading market index closes included the small-cap Russell 2000 Index closed at 1,432.81  with a loss of -1.01% percent or -14.57 point; the S&P 600 Small-Cap Index closed at 894.06  with a loss of  -0.88% percent or -7.97  point; the S&P 400 Mid-Cap Index closed at 1,753.17  with a loss of -0.59% percent or -10.45 point; the S&P 100 Index closed at 1,143.95  with a loss of -0.47% percent or -5.40 point; the Russell 3000 Index closed at 1,523.01  up with +0.58% percent or +8.87 point; the Russell 1000 Index closed at 1,429.15  with a loss of  -0.55% percent or -7.84 point