U.S. stock futures Mixed  in pre-market trading for , March 12.The Nasdaq Futures is trading at 7,201.25 up with +0.13%  percent or +9.00 point.The Dow Futures is trading at 25,653.00  with a loss of -0.14% percent or -37.00 point. The S&P 500 Futures is trading at 2,790.12  up with +0.04% percent or +1.12 point.
In overnight trading in the Eastern Hemisphere, Japan's Nikkei 225 is trading at 21,503.69  up with +1.79% percent or  +378.60 point. Hong Kong's Hang Seng is trading at 28,883.59  up with +1.33% percent or +380.29  point. China's Shanghai Composite is trading at 3,060.31  up with +1.10% percent or +33.31 point. India's BSE Sensex is trading at 37,393.65  up with +0.92% percent or +339.55 point at 12:15 PM.The FTSE 100 is trading at 7,147.05 up with +0.23% percent or +16.43 point. Germany's DAX is trading at 11,545.38  up with +0.016% percent or  +8.87 point. France's CAC 40 is trading at 5,267.37   up with +0.027% percent or +1.42 point. The Stoxx Europe 600 is trading at 373.75 up with +0.07% percent or +0.30 point.
Tuesday's Factors and Events
U.S. stock index futures traded lower on Tuesday as investors digested sharp gains from the previous session.
Boeing shares fell more than 2 percent in the premarket, adding to steep losses from Monday's session. Boeing fell after Edward Jones downgraded the stock to hold from buy, citing a possible "delay in orders " after two 737 MAX jets crashed in less than 6 months.
Stocks rose on Monday as strong gains in tech firms like Apple and Facebookoffset a steep decline in Boeing. Better-than-expected January U.S. retail sales numbers also gave a boost to confidence, after a raft of weak December data.
Monday's Activity
For the day The Nasdaq Composite is trading at 7,558.06 up with +2.02% percent or +149.92  point.the Dow is trading at 25,650.88 with +0.79% percent or +200.64 point. The S&P 500 is trading at 2,783.30 up with +1.47% percent or +40.23 point.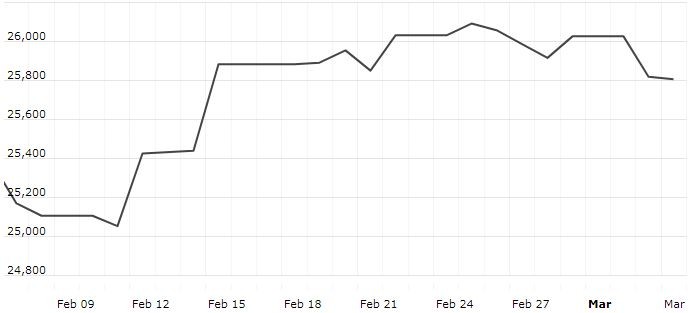 Other leading market index closes included the small-cap Russell 2000 Index closed at 1,548.88 up with +1.77% percent or +26.99 point; the S&P 600 Small-Cap Index closed at 949.24 up with +1.61% percent or +15.06 point; the S&P 400 Mid-Cap Index closed at 1,885.29  up with +1.34% percent or +25.01 point; the S&P 100 Index closed at 1,229.57  up with +1.53% percent or +18.53 point; the Russell 3000 Index closed at 1,644.87 up with +1.49% percent or +24.18 point; the Russell 1000 Index closed at 1,543.39 up with +1.47% percent or +22.36 point.