U.S. stock futures higher  in pre-market trading for , March 19.The Nasdaq Futures is trading at 7,382.12 up with +0.29%  percent or +21.37 point.The Dow Futures is trading at 26,046.50  up with +0.31% percent or +81.50 point.The S&P 500 Futures is trading at 2,848.88 up with +0.30% percent or +8.38 point.
In overnight trading in the Eastern Hemisphere, Japan's Nikkei 225 is trading at 21,566.85 with a loss of -0.082% percent or -17.65 point. Hong Kong's Hang Seng is trading at 29,393.12 with a loss of -0.054% percent or -15.89  point. China's Shanghai Composite is trading at 3,090.98 with a loss of -0.18% percent or -5.44 point. India's BSE Sensex is trading at 38,140.04  up with +0.12% percent or +44.07 point at 12:15 PM.The FTSE 100 is trading at 7,329.77 up with +0.42% percent or +30.58 point. Germany's DAX is trading at 11,760.98 up with +0.89% percent or  +103.92 point. France's CAC 40 is trading at 5,440.66   up with +0.51% percent or +27.83 point. The Stoxx Europe 600 is trading at 384.74 up with +0.69% percent or +2.63  point.
Tuesday's Factors and Events
Market focus is largely attuned to central bank expectations, with the Fed due to kick-off its two-day policy meeting on Tuesday.
With global economic growth appearing to slow, most market participants anticipate the U.S. central bank to adopt a cautious tone. The Federal Reserve is also expected to lower its interest rate forecasts — or "dot plots" — to show little or no further tightening in 2019.
Investors are also monitoring developments out of Europe. Fresh Brexit uncertainty dragged U.K. sterling to as low as $1.3183 overnight. It comes after the speaker of Parliament ruled that British Prime Minister Theresa May could not put her divorce deal to a new vote unless it was re-submitted in a substantially different form.
Monday's Activity
For the day The Nasdaq Composite is trading at 7,714.48 up with +0.34% percent or +25.95 point.the Dow is trading at 25,914.10 up with +0.25% percent or +65.23 point. The S&P 500 is trading at 2,832.94 up with +0.37% percent or +10.46 point.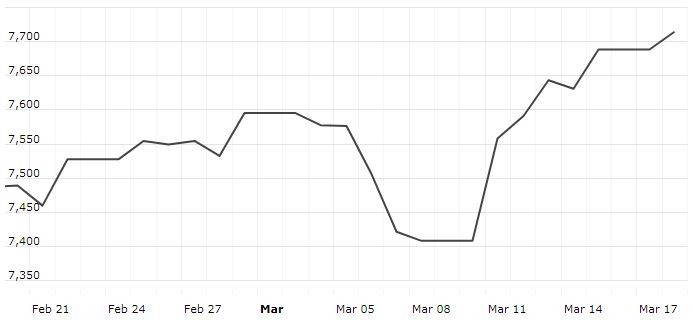 Other leading market index closes included the small-cap Russell 2000 Index closed at 1,563.93 up with +0.67% percent or +10.39 point; the S&P 600 Small-Cap Index closed at 954.97 up with +0.81% percent or +7.72 point; the S&P 400 Mid-Cap Index closed at 1,909.01  up with +0.69% percent or +13.15 point; the S&P 100 Index closed at 1,252.08  up with +0.37% percent or +4.60 point; the Russell 3000 Index closed at 1,672.59 up with +0.41% percent or +6.75 point; the Russell 1000 Index closed at 1,570.24 up with +0.38% percent or +6.02 point.