U.S. stock futures higher  in pre-market trading for , May 01.The Nasdaq Futures is trading at 7,857.12 up with +0.73% percent or +57.12 point.The Dow Futures is trading at 11,847.20 up with +0.47% percent or +55.70 point.The S&P 500 Futures is trading at 2,958.38  up with +0.34% percent or +0.34% point.
In overnight trading in the Eastern Hemisphere, In other parts of world,  Japan's Nikkei 225 is trading at 22,258.73 with a loss of -0.22% percent or -48.85 point. Hong Kong's Hang Seng is trading at 29,699.11  with a loss of -0.65% percent or -193.70   point. China's Shanghai Composite is trading at 3,078.34  up with +0.52% percent or +15.84 point. India's BSE Sensex is trading at 39,031.55  with a loss of -0.092% percent or -35.78 point at 12:15 PM.The FTSE 100 is trading at 7,411.24  with  a loss of -0.094% percent or -6.98 point. Germany's DAX is trading at 12,344.08  up with  +0.13% percent or  +16.06 point. France's CAC 40 is trading at 5,586.41 up with +0.097% percent or +5.44 point. The Stoxx Europe 600 is trading at 391.41  with +0.02% percent or +0.06 point.
Wednesday's Factors and Events
Traders are focused on the Federal Reserve, with Chairman Jerome Powell due to address the press at 2 p.m. ET.
The central bank is widely expected to keep interest rates unchanged, but investors will be looking to see if it changes its tone on the economy. Ahead of the meeting, President Donald Trump called for a 1% rate cut and more quantitative easing.
Tuesday Activity
For the day the Dow is trading at 26,592.91   up with +0.15% percent or +38.52 point. The Nasdaq Composite is trading at 8,095.39  wilth  a loss of -0.81% percent or -66.47 point.The S&P 500 is trading at 2,945.83 up with +0.095% percent or +2.80 point.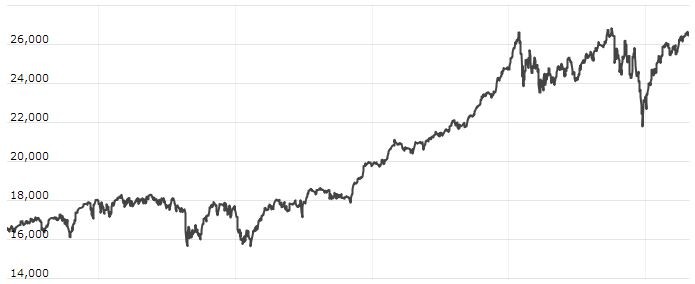 Other leading market index closes included the small-cap Russell 2000 Index closed at 1,591.21 with a loss of -0.45% percent or -7.15 point; the S&P 600 Small-Cap Index closed at 975.06 with a loss of -0.19% percent or -1.90 point; the S&P 400 Mid-Cap Index closed at 1,970.74 with a loss of -0.16% percent or -3.20 point; the S&P 100 Index closed at 1,305.20  with a loss of -0.14% percent or -1.87 point; the Russell 3000 Index closed at 1,735.60 up with 0.052% percent or +0.90 point; the Russell 1000 Index closed at 1,631.87  up with +0.090% or +1.46 point.