U.S. stock futures lower  in pre-market trading for , May 08. The Nasdaq Futures is trading at 7,616.25 with a loss of -0.75% percent or -57.75 point.The Dow Futures is trading at 25,884.00  with a loss of -0.34% percent or -89.00 point.  The S&P 500 Futures is trading at 2,879.62  with a loss of -0.39% percent or -11.13 point.
In overnight trading in the Eastern Hemisphere, In other parts of world,  Japan's Nikkei 225 is trading at 21,602.59 with a loss of -1.46% percent or -321.13 point. Hong Kong's Hang Seng is trading at 28,975.69 a loss of -1.32% percent or -387.33   point. China's Shanghai Composite is trading at 2,893.76 with a loss of -1.12% percent or -32.63 point. India's BSE Sensex is trading at 37,946.53 a loss of – 0.86% percent or -330.10 point at 12:15 PM.The FTSE 100 is trading at 7,246.11   with a loss of -0.20% percent or -14.36 point. Germany's DAX is trading at 12,095.07  up with  +0.019% percent or  +2.33 point. France's CAC 40 is trading at 5,381.58 with a loss of -0.26% percent or -14.16 point. The Stoxx Europe 600 is trading at 380.00   with a loss of -0.42% percent or -1.56    point.
Wednesday's Factors and Events
President Trump said in a Twitter post Sunday the U.S. would hike tariffs on Chinese goods as soon as Friday, which sparked a global sell-off. The Dow plunged more than 470 points on Tuesday, its biggest decline since January 3, as traders realized Trump's threat was not just a negotiation tactic after U.S. Trade Representative Robert Lighthizer confirmed the higher levies are coming this week.
The Dow has lost nearly 540 points this week amid the trade dispute, while the S&P 500 and Nasdaq are down more than 2% after both hitting all-time highs last week.
Tuesday Activity
For the day The Nasdaq Composite is trading at 7,963.76  wilth  a loss of -1.96% percent or -159.53 point.the Dow is trading at 25,965.09 with a loss of -1.79% percent or -473.39  point. The S&P 500 is trading at 2,884.05 with a loss of -1.65% percent or -48.42 point.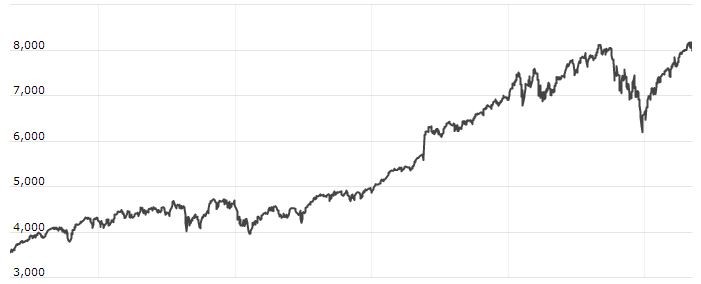 Other leading market index closes included the small-cap Russell 2000 Index closed at 1,582.31 with a loss of -2.02%percent or -32.66 point; the S&P 600 Small-Cap Index closed at 971.02 with a loss of -1.85% percent or ?18.30 point; the S&P 400 Mid-Cap Index closed at 1,938.62  with a loss of -1.93% percent or -38.20 point; the S&P 100 Index closed at 1,278.76  with a loss of -1.67% percent or -21.68 point; the Russell 3000 Index closed at 1,701.83  with a loss of -1.70% percent or -29.39 point; the Russell 1000 Index closed at 1,598.40   with a loss of -1.67% or -27.19 point.