U.S. stock futures lower  in pre-market trading for , May 13.The Nasdaq Futures is trading at 7,492.50  with a loss of -1.55% percent or -117.75 point.The Dow Futures is trading at 25,686.50 with a loss of -1.07% percent or -277.50 point. The S&P 500 Futures is trading at 2,853.88  with a loss of -1.15% percent or -33.12 point.
In overnight trading in the Eastern Hemisphere, In other parts of world, Japan's Nikkei 225 is trading at 21,191.28 with a loss of -0.72% percent or -153.64 point. Hong Kong's Hang Seng is trading at 28,550.24 up with +0.84% percent or +239.17   point. China's Shanghai Composite is trading at 2,899.77  with a loss of -1.34% percent or -39.44 point. India's BSE Sensex is trading at 37,460.92  with a loss of -0.0055% percent or -2.07 point at 12:15 PM.The FTSE 100 is trading at 7,199.70 with a loss of -0.050% percent or -3.59 point. Germany's DAX is trading at 11,963.51 with a loss of -0.80% percent or  -96.32 point. France's CAC 40 is trading at 5,296.99 with a loss of -0.57% percent or -30.44 point. The Stoxx Europe 600 is trading at 375.16 with a loss of -0.53% percent or -1.91  point.
Monday's Factors and Events
"In the immediate term, we would be watching to see if China retaliates against last Friday's tariff increase. The performance of the equity markets would also be critical. Thus far, the selloffs in China and the US indices have been minor. A more serious decline could prompt more urgency by both sides to reach a deal," strategists at Singapore's DBS Group Research wrote in a note.
Asian markets fell broadly. The Nikkei 225 index declined 0.7% overnight while the Shanghai Composite pulled back 1.2%.  European stocks also dropped. The Stoxx 600 index fell 0.5% while the German Dax dipped 0.7%.
Friday Activity
For the day The Nasdaq Composite is trading at 7,916.94  up wilth  +0.080% percent or +6.35 point.the Dow is trading at 25,942.37  up with +0.44% percent or +114.01    point. The S&P 500 is trading at 2,881.40 up with +0.37% percent or +10.68 point.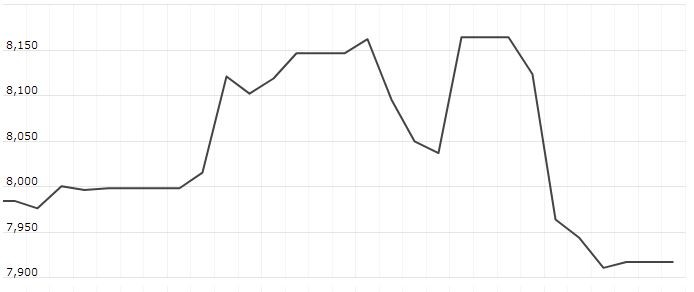 Other leading market index closes included the small-cap Russell 2000 Index closed at 1,572.99 up with +0.19% percent or +2.94 point; the S&P 600 Small-Cap Index closed at 964.29 up with +0.20% percent or +1.88 point; the S&P 400 Mid-Cap Index closed at 1,933.43  up with +0.30% percent or +5.69 point; the S&P 100 Index closed at 1,275.10  up with +0.31% percent or +3.88 point; the Russell 3000 Index closed at 1,699.78 up with +0.35% percent or +5.90 point; the Russell 1000 Index closed at 1,597.05  up with +0.36% or +5.74 point.