U.S. stock futures lower  in pre-market trading for , May 17 The Nasdaq Futures is trading at 7,554.75  up with +0.34% percent or +25.50 point.The Dow Futures is trading at 25,758.00  up with +0.33% percent or +84.00 point.The S&P 500 Futures is trading at 2,864.38  up with +0.33% percent or +9.38 point.
In overnight trading in the Eastern Hemisphere, In other parts of world, Japan's Nikkei 225 is trading at 21,062.98 with a loss of -0.59% percent or -125.58 point. Hong Kong's Hang Seng is trading at 28,341.68 up with +0.26% percent or +72.97   point. China's Shanghai Composite is trading at 2,955.71  up with +0.58% percent or +17.03 point. India's BSE Sensex is trading at 37,114.61  with a loss of -0.00073% percent or -0.27 point at 12:15 PM.The FTSE 100 is trading at 7,321.51 up with +0.34% percent or +24.56 point. Germany's DAX is trading at 12,188.21 up with +0.73% percent or  +88.64 point. France's CAC 40 is trading at 5,393.84 up with +0.36% percent or +19.58 point. The Stoxx Europe 600 is trading at 379.69 up with +0.43% percent or +1.67  point.
Friday's Factors and Events
Shares of Citigroup, J.P. Morgan Chase, Bank of America and Goldman Sachs all gained more than 1%. Banks rose as the benchmark 10-year Treasury yield climbed back above 2.4% on stronger-than-forecast data. Housing starts for April topped expectations while weekly jobless claims dropped more than expected.
The gains in Cisco, Walmart and the banks offset worries over the ongoing trade spat between China and the U.S.
"You take the bad news and nobody cares anymore," said Mike Mangieri, managing partner at Seven Points Capital. "It's just discounted to such a degree where it's not even bad news anymore. Then you take the good news, and the market just runs higher."
Investors had largely priced in the two countries striking a deal this month. Instead, the U.S. hiked tariffs on $200 billion worth of Chinese imports. China retaliated with higher tariffs on $60 billion worth of goods.
Thursday Activity
For the day The Nasdaq Composite is trading at 7,822.15 up with +1.13% percent or +87.65 point.the Dow is trading at 25,648.02  up with +0.45% percent or +115.97    point. The S&P 500 is trading at 2,850.96 up with +0.58% percent or +16.55 point.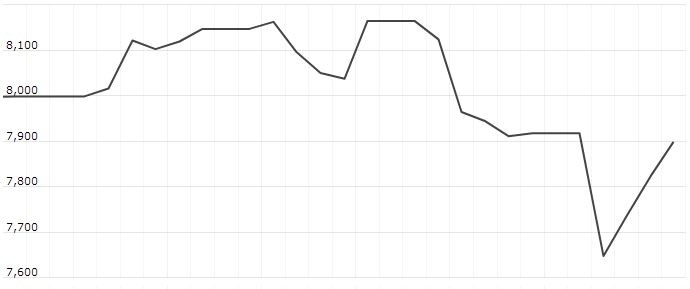 Other leading market index closes included the small-cap Russell 2000 Index closed at 1,548.27 up with +0.34% percent or +5.21 point; the S&P 600 Small-Cap Index closed at 946.06 up with +0.14% percent or +1.29 point; the S&P 400 Mid-Cap Index closed at 1,899.98  up with +0.27% percent or +5.06 point; the S&P 100 Index closed at 1,262.30  up with +0.79% percent or +9.89 point; the Russell 3000 Index closed at 1,680.91 up with +0.57% percent or +9.45 point; the Russell 1000 Index closed at 1,579.88  up with +0.58% or +9.15 point.