U.S. stock futures higher in pre-market trading for , June o6 The Nasdaq Futures is trading at 7,259.75  up with +0.43% percent or +31.25 point.The Dow Futures is trading at 25,636.00  up with +0.31% percent or +78.00 point.The S&P 500 Futures is trading at 2,836.62 up with +0.31% percent or +8.87 point.
In overnight trading in the Eastern Hemisphere, In other parts of world, Japan's Nikkei 225 is trading at 20,774.04  with a loss of -0.0099% percent or -2.06 point. Hong Kong's Hang Seng is trading at 26,948.79 up with +0.20% percent or ++54.49   point. China's Shanghai Composite is trading at 2,827.80 with a loss of -1.17% percent or -33.62 point. India's BSE Sensex is trading at 39,730.39  with a loss of -0.88% percent or -353.15  point at 12:15 PM.The FTSE 100 is trading at 7,270.56 up with +0.70% percent or +50.34 point. Germany's DAX is trading at 12,064.73 up with +0.70% percent or +83.92 point. France's CAC 40 is trading at 5,326.34 up with +0.65% percent or +34.35 point. The Stoxx Europe 600 is trading at 376.48 up  with +0.66% percent or +2.48 point.
Thursday's Factors and Events
Comments from Fed Chair Jerome Powell on Tuesday further fueled expectations that the U.S. central bank is moving closer to cutting interest rates, causing U.S. stocks to surge. The Dow Jones Industrial Average jumped more than 500 points on Tuesday, its second best day of the year, and continued its rally into Wednesday.
Powell said that the central bank will keep an eye on current developments in the economy, and would do what it must to "sustain the expansion."
Wednesday Activity
For the day The Nasdaq Composite is trading at 7,527.12  up with +2.65% percent or +194.10 point.the Dow is trading at 25,332.18 up  with +2.06% percent or +512.40 point. The S&P 500 is trading at 2,803.27 up with +2.14% percent or +58.82 point.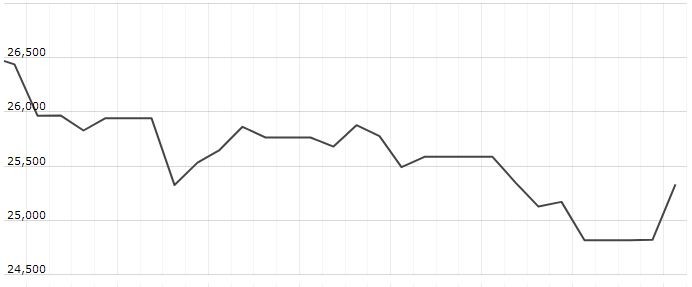 Other leading market index closes included the small-cap Russell 2000 Index closed at 1,506.79 with a loss of -0.12% percent or -1.77 point; the S&P 600 Small-Cap Index closed at 916.22 with a loss of -0.29% percent or –2.67 point; the S&P 400 Mid-Cap Index closed at 1,874.71  up with +0.32% percent or +5.89 point; the S&P 100 Index closed at 1,241.46 up with +0.69% percent or +8.51 point; the Russell 3000 Index closed at 1,664.12  up with +0.74% percent or +12.22 point; the Russell 1000 Index closed at 1,566.12 up with +0.80% or +12.50 point.