U.S. stock futures higher in pre-market trading for , June 10 The Nasdaq Futures is trading at 7,448.12  up with +0.39% percent or +28.62 point.The Dow Futures is trading at 26,116.50  up with +0.42% percent or +109.50 point.The S&P 500 Futures is trading at 2,885.62 up with +0.37% percent or +10.62 point.
In overnight trading in the Eastern Hemisphere, In other parts of world, Japan's Nikkei 225 is trading at 21,134.42  up with +1.20% percent or +249.71 point. Hong Kong's Hang Seng is trading at 27,531.86 up with +2.10% percent or +566.58   point. China's Shanghai Composite is trading at 2,852.13 up with +0.86% percent or +24.33 point. India's BSE Sensex is trading at 39,670.32  up with +0.14% percent or +54.42 point at 12:15 PM.The FTSE 100 is trading at 7,367.12 up with +0.48% percent or +35.18  point. Germany's DAX is trading at 12,045.38 up with +0.77% percent or +92.24  point. France's CAC 40 is trading at 5,382.71 up with +0.35% percent or +18.66 point. The Stoxx Europe 600 is trading at 378.16 up  with +0.18% percent or +0.68 point.
Monday's Factors and Events
U.S. President Donald Trump announced Sunday that proposed tariffs on Mexican imports would be suspended indefinitely. Trump said in a Twitter post Sunday that he has "full confidence" that Mexico will crack down on migration from Central America, after the two neighbors reached a consensus. The New York Times reported Saturday that the deal to avert tariffs largely comprised actions Mexico had already agreed to take.
Meanwhile, investors will be watching trade developments between the U.S. and China ahead of a key meeting between the leaders of the two countries. Speaking to CNBC on Sunday, U.S. Treasury Secretary Steven Mnuchin said President Trump will decide about further Chinese tariffs after he meets his Chinese counterpart later this month.
Friday Activity
For the day The Nasdaq Composite is trading at 7,742.10  up with +1.66% percent or +126.55 point. the Dow is trading at 25,983.94 up  with +1.02% percent or +263.28 point. The S&P 500 is trading at 2,873.34 up with +1.05% percent or +29.85 point.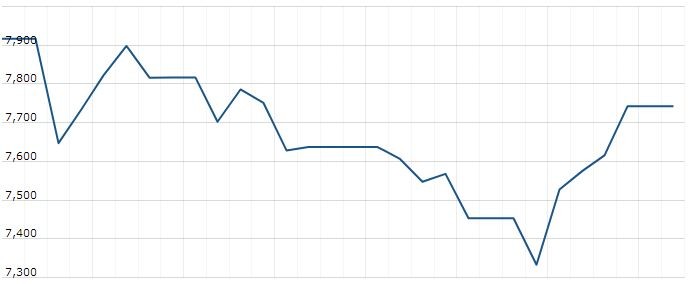 Other leading market index closes included the small-cap Russell 2000 Index closed at 1,514.39 up  with +0.72% percent or +10.85 point; the S&P 600 Small-Cap Index closed at 919.89 up with +0.71% percent or +6.47 point; the S&P 400 Mid-Cap Index closed at 1,892.00  up with +0.56% percent or +10.48 point; the S&P 100 Index closed at 1,265.65 up with +1.23% percent or +15.44 point; the Russell 3000 Index closed at 1,689.43  up with +0.99%percent or +16.63 point; the Russell 1000 Index closed at 1,591.13 up with +1.01% or +15.98 point.