U.S. stock futures higher in pre-market trading for , August 06 The Nasdaq Futures is trading at 7,454.75  up with +1.08% percent or +79.75 point. The Dow Futures is trading at 25,745.00 up  with +0.76% percent or +195.00 point.  The S&P 500 Futures is trading at 2,853.12  up with +0.86% percent or +24.38 point.
In overnight trading in the Eastern Hemisphere, In other parts of world, Japan's Nikkei 225 is trading at 20,720.29 with a loss of -1.74% percent or -366.87 point. Hong Kong's Hang Seng is trading at 26,178.56  with a loss of -2.75% percent or -740.02 point. China's Shanghai Composite is trading at 2,821.50  with a loss of -1.62% percent or -46.34 point. India's BSE Sensex is trading at 36,671.11  with a loss of -1.21% percent or -447.99 point at 12:15 PM.The FTSE 100 is trading at 7,231.31 up with +0.10% percent or +7.46 point. Germany's DAX is trading at 11,735.18  up with  +0.66% percent or +76.67 point. France's CAC 40 is trading at 5,294.35   up with +1.01% percent or +52.81 point. The Stoxx Europe 600 is trading at 371.69  up with +0.61% percent or +2.18 point.
Tuesday's Factors and Events
U.S. stock index futures rebounded on Tuesday after China's central bank indicated it wanted its currency to trade at a higher level than expected against the dollar, easing tensions about the nation using its currency as a weapon in the trade war. The bounce came after Wall Street saw its worst trading day of 2019 in the previous session.
Around 7:45 a.m. ET, Dow futures recovered to indicate a positive open of about 179 points, after tanking in after-hours trading Monday evening. Futures on the S&P and Nasdaq were also higher Tuesday morning.
Monday Activity
For the day The Nasdaq Composite is trading at 7,726.04 with a loss of -3.47% percent or -278.03 point.the Dow is trading at 25,717.74  with a loss of -2.90% percent or -767.27 point. The S&P 500 is trading at S&P 500 with a loss of -2.98% percent or -87.31 point.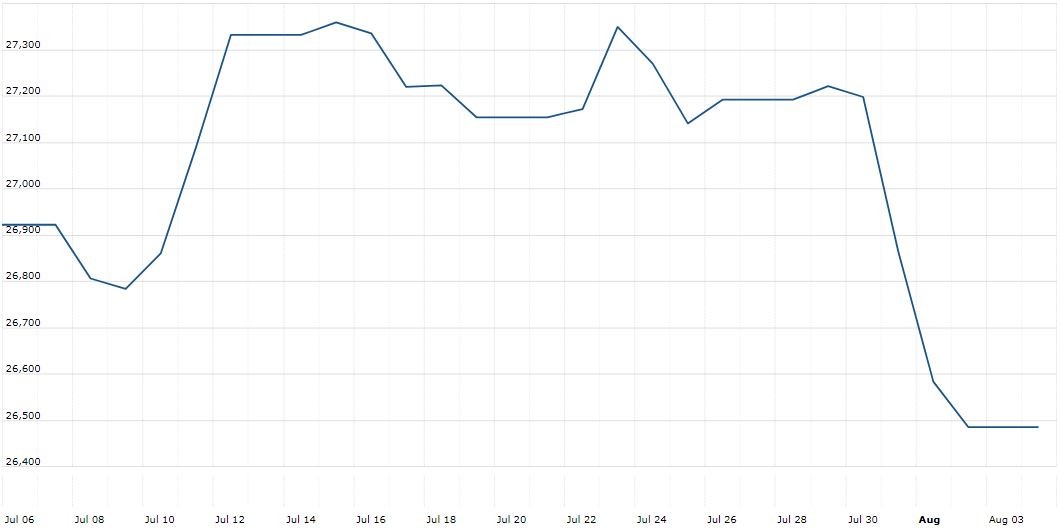 Other leading market index closes included the small-cap Russell 2000 Index closed at 1,487.41   with a loss of -3.02% percent or -46.25  point; the S&P 600 Small-Cap Index closed at 911.71 with a loss of -2.82% percent or ?26.43 point; the S&P 400 Mid-Cap Index closed at 1,860.83   with  a loss of  -2.80% percent or -53.70 point; the S&P 100 Index closed at 1,256.99 with a loss of -3.06% percent or -39.66 point; the Russell 3000 Index closed at 1,671.77 with a loss of -2.99% percent or -51.54 point; the Russell 1000 Index closed at 1,575.30   with a loss of -2.99% or -48.54 point.