U.S. stock futures lower in pre-market trading for,September 16 The Nasdaq Futures is trading at 7,856.62 with a loss of -0.65% percent or -51.63 point.The Dow Futures is trading at 27,088.50 with a loss of -0.46% percent or -125.50 point.The S&P 500 Futures is trading at 2,994.38 with a loss of -0.47% percent or -14.12 point.
In overnight trading in the Eastern Hemisphere, In other parts of world, Japan's Nikkei 225 is trading at 21,988.29 up  with +1.05% percent or +228.68 point. Hong Kong's Hang Seng is trading at 27,075.01   with a loss of –1.02% percent or –277.68 point. China's Shanghai Composite is trading at 3,030.75   with a loss of –0.016% percent or –0.48 point. India's BSE Sensex is trading at 37,078.66 with a loss of –0.82% percent or –306.33 point at 12:15 PM.The FTSE 100 is trading at 7,353.15 with a loss of –0.19% percent or  –14.48 point. Germany's DAX is trading at 12,395.73 with a loss of –0.58% percent or –72.80 point. France's CAC 40 is trading at 5,612.99 with a loss of –0.75% percent or –42.46 point. The Stoxx Europe 600 is trading at 389.99  witha loss of –0.46% percent or –1.83 point.
Monday's Factors and Events
the yield on the benchmark 10-year Treasury note which moves inversely to price, was lower at around 1.8572%, while the yield on the 30-year Treasury bond fell to 2.3271%.
Investors are closely monitoring the fallout from drone attacks on Saudi Arabian crude facilities over the weekend, which were estimated to have shut around 5% of the world's supply.
President Donald Trump said the U.S. was "locked and loaded" and awaiting communication from Saudi Arabia. Yemen's Houthi rebels claimed responsibility for the attack, but the U.S. has nonetheless pointed the finger at Iran.
Friday Activity
For the day The Nasdaq Composite is trading at 8,176.71  with a loss of –0.22% percent or –17.75 point.the Dow is trading at 27,219.52  up with +0.14% percent or +37.07   point. The S&P 500 is trading at 3,007.39 with a loss of –0.072% percent or –2.18 point.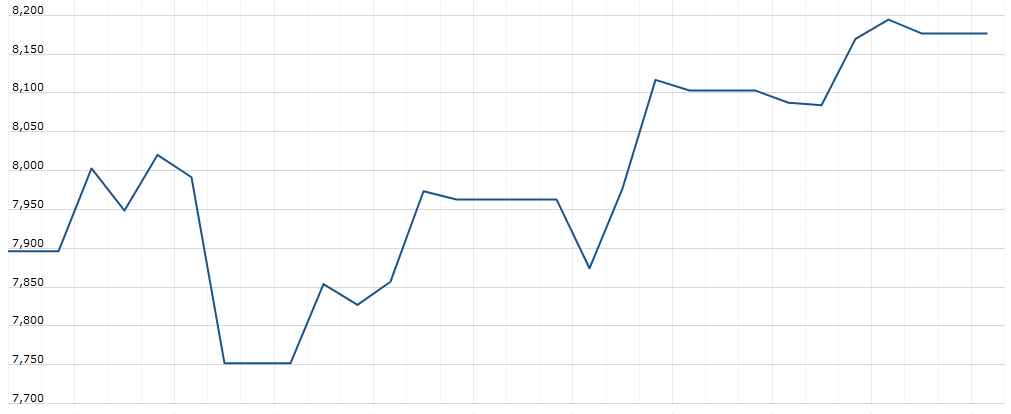 Other leading market index closes included the small-cap Russell 2000 Index closed at 1,578.14  up with 0.20% percent or +3.07 point; the S&P 600 Small-Cap Index closed at 975.95 up with +0.16% percent or +1.52 point; the S&P 400 Mid-Cap Index closed at 1,963.16 up with +0.041% percent or +0.80 point; the S&P 100 Index closed at 1,330.97 with a loss of –0.076% percent or  –1.01 point; the Russell 3000 Index closed at 1,763.90 with a loss of –0.081% percent or –1.42 point; the Russell 1000 Index closed at 1,661.46 witha loss of  –0.10% or –1.67 point.