U.S. stock futures lower in pre-market trading for,September 19 The Nasdaq Futures is trading at 7,883.25 with a loss of -0.44% percent or -34.75 point.The Dow Futures is trading at 27,070.00 with a loss of -0.27% percent or -73.00 point. The S&P 500 Futures is trading at 3,000.12 with a loss of -0.28% percent or -8.38 point.
In overnight trading in the Eastern Hemisphere, In other parts of world, Japan's Nikkei 225 is trading at 22,044.45 up with +0.38% percent or +83.74 point. Hong Kong's Hang Seng is trading at 26,487.03 with a loss of –1.00% percent or –267.09 point. China's Shanghai Composite is trading at 2,999.28 up with +0.46% percent or +13.62 point. India's BSE Sensex is trading at 36,129.65  with a loss of –1.19% percent or –434.23 point at 12:15 PM.The FTSE 100 is trading at 7,366.57 with up  +0.71% percent or  +52.23 point. Germany's DAX is trading at 12,421.17 up with +0.25% percent or +31.55 point. France's CAC 40 is trading at 5,649.75 up with +0.52% percent or +29.11 point. The Stoxx Europe 600 is trading at 390.87 up with +0.37% percent or +0.37% point.
Thursday's Factors and Events
U.S. stocks on Thursday were seen slipping as Wall Street digests the second successive rate cut of 2019 by the Federal Reserve that is intended to forestall sluggish global growth and harmful trade clashes. However, the central bank failed to signal a commitment to further interest-rate reductions.
Wednesday Activity
For the day  The Nasdaq Composite is trading at 8,177.39 with a loss of –0.11% percent or –8.62 point.the Dow is trading at 27,147.08 up with +0.13% percent or +36.28 point. The S&P 500 is trading at 3,006.73 up with +0.034% percent or +1.03 point.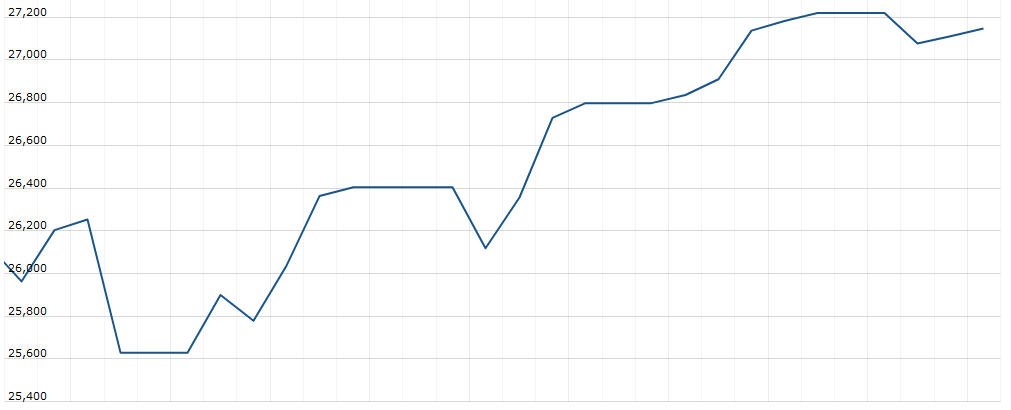 Other leading market index closes included the small-cap Russell 2000 Index closed at 1,568.34 with a loss of  –0.63% percent or –9.95 point; the S&P 600 Small-Cap Index closed at 970.34 with a loss of –0.64% percent or –6.26 point; the S&P 400 Mid-Cap Index closed at 1,953.43 with a loss of –0.31% percent or –6.06 point; the S&P 100 Index closed at 1,328.12 up with +0.075% percent or  +1.00 point; the Russell 3000 Index closed at 1,763.78  with a loss of   –0.041% percent or  –0.72 point; the Russell 1000 Index closed at 1,662.08 up with 0.00098% or +0.016 point.