U.S. stock futures higher in pre-market trading for,September 24 The Nasdaq Futures is trading at7,876.75 up with +0.33% percent or +26.25 point.The Dow Futures is trading at 27,037.50 up with +0.28% percent or +74.50 point. The S&P 500 Futures is trading at 3,006.12 up with +0.30% percent or +9.12 point.
In overnight trading in the Eastern Hemisphere, In other parts of world, Japan's Nikkei 225 is trading at 22,098.84 up with +0.089% percent or +19.75 point. Hong Kong's Hang Seng is trading at 26,284.10 up with +0.24% percent or +61.70 point. China's Shanghai Composite is trading at 2,985.34 up with +0.28% percent or +8.26 point. India's BSE Sensex is trading at39,008.18 with a loss of  –0.21% percent or –81.85 point at 12:15 PM. Germany's DAX is trading at 12,351.77 up with +0.076% percent or +9.44 point. France's CAC 40 is trading at 5,643.69 up with +0.23% percent or +12.93 point. The Stoxx Europe 600 is trading at 390.51 up with +0.19% percent or +0.77 point.
Tuesday's Factors and Events
Investors appear unsure of what to make of the past couple days of trade developments, as optimism about China and the United States sitting down at the negotiating table has been tempered with some troubling signs.
The latest of the latter came Friday on news that Chinese officials wouldn't be visiting U.S. farms as planned. That seemed to have left investors wondering how close the two sides are to overcoming their disagreements and striking a deal.
During Thursday and Friday, deputy-level negotiators from the world's two largest economies had been holding talks apparently aimed at smoothing the way for higher level discussions next month.
Monday Activity
For the day The Nasdaq Composite is trading at 8,112.46 with a loss of –0.064% percent or  –5.21 point.the Dow is trading at 26,949.99 up with +0.055% percent or +14.92 point. The S&P 500 is trading at 2,991.78  with a loss of –0.0097% percent or –0.29 point.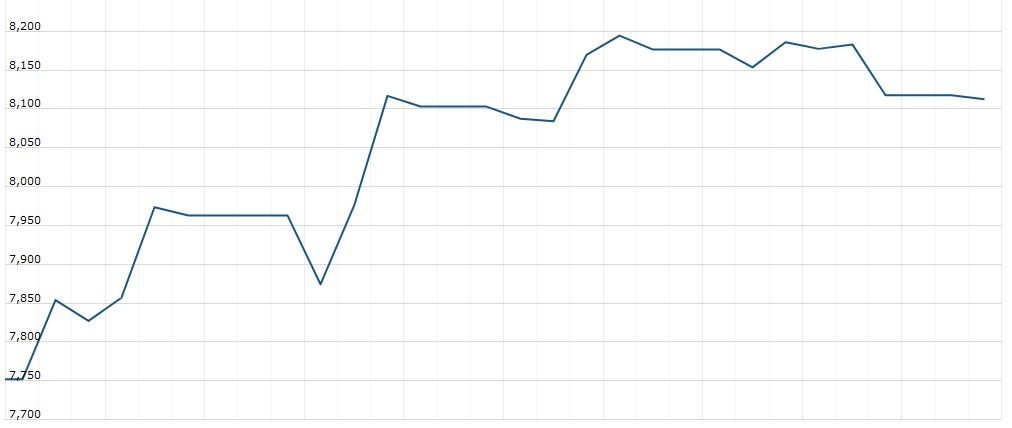 Other leading market index closes included the small-cap Russell 2000 Index closed at 1,558.25 with a loss of  –0.097% percent or –1.52 point; the S&P 600 Small-Cap Index closed at 962.44 up with 0.034% percent or +0.33 point; the S&P 400 Mid-Cap Index closed at 1,947.83 up with +0.16% percent or +3.19 point; the S&P 100 Index closed at 1,321.21 with a loss of –0.037% percent or ?0.49 point; the Russell 3000 Index closed at 1,755.21 with a loss of   –0.0055% percent or ?0.097 point; the Russell 1000 Index closed at 1,654.19 up with +0.0010% or +0.017 point.