U.S. stock futures higher in pre-market trading for,October 25.The Nasdaq Futures is trading at 7,942.38  up with +0.18% percent or +14.13 point.The Dow Futures is trading at 26,790.00 up with +0.04% percent or +10.00 point. The S&P 500 Futures is trading at 3,007.62  up with +0.11% percent or +3.37 point. 

In overnight trading in the Eastern Hemisphere,In other parts of world, Japan's Nikkei 225 is trading at 22,799.81 up with +0.22% percent or +49.21 point. Hong Kong's Hang Seng is trading at 26,676.34 with a loss of -0.45% percent or -121.61 point. China's Shanghai Composite is trading at 2,954.93 up with +0.48% percent or +14.01  point. India's BSE Sensex is trading at 38,802.10  with a loss of -0.55% percent or -215.18 point at 12:15 PM.Germany's DAX is trading at 12,854.56  with a loss of –0.14% percent or –17.54 point. France's CAC 40 is trading at 5,691.17 up with +0.12% percent or +6.84 point. The Stoxx Europe 600 is trading at 396.18   with a loss of -0.30% percent or -1.17  point.
Friday's Factors and Events
"There is way too much pessimism in the market," he said. "The market is focused on the headlines and really ignores the strong fundamentals underneath," he added, referring to healthy gross domestic product in the U.S. and employment figures, in addition to corporate earnings that have come in better than expected.
Of the 168 S&P 500 companies that have reported third-quarter results thus far, 80.4% of them have come in above analysts' consensus estimates and 13.1% have fallen below estimates. By comparison, on average 65% of companies beat estimates and 20% miss, going back to 1994, according to data from Refinitiv.
Thursday Activity
For the day The Nasdaq Composite is trading at 8,185.80 up with +0.81% percent or +66.00 point.the Dow is trading at 26,805.53 with a loss of –0.11% percent or  –28.42 point. The S&P 500 is trading at 3,010.29 up with +0.19% percent or +5.77 point.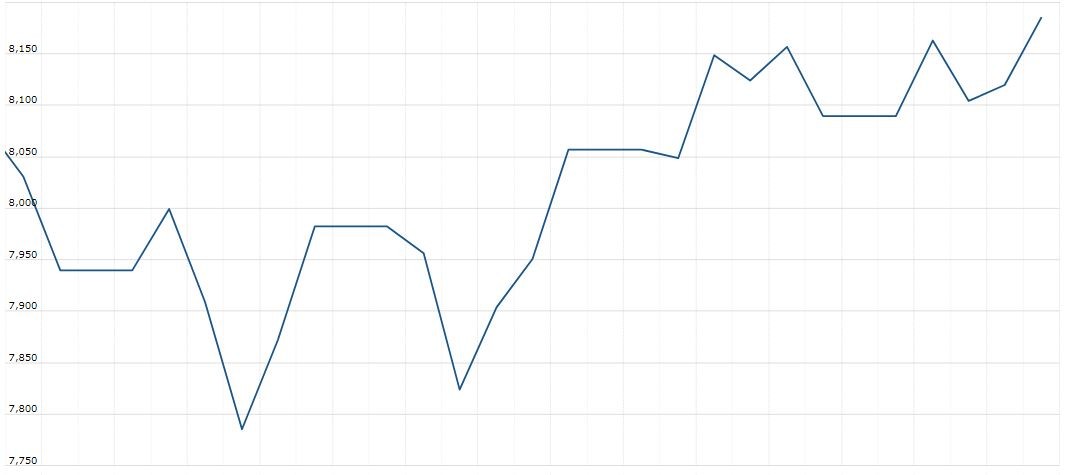 Other leading market index closes included the small-cap Russell 2000 Index closed at 1,550.18  with a loss of -0.17% percent or -2.67 point; the S&P 600 Small-Cap Index closed at 961.55 with a loss of –0.24% percent or -2.27 point; the S&P 400 Mid-Cap Index closed at 1,949.60 up with +0.046% percent or  +0.89 point; the S&P 100 Index closed at 1,333.22 with +0.17% percent or  +2.25 point; the Russell 3000 Index closed at 1,762.62 up with +0.24%  percent or +4.23 point; the Russell 1000 Index closed at 1,662.28 up with +0.27%  or +4.46  point.