U.S. stock futures higher in pre-market trading for,Dec 04.The Nasdaq Futures is trading at 8,300.25 up with +0.59% percent or +49.00 point.The Dow Futures is trading at 27,614.50 up with +0.46% percent or +127.50 point.The S&P 500 Futures is trading at 3,104.38 up with +0.43% percent or +13.38 point.

In overnight trading in the Eastern Hemisphere,In other parts of world, Japan's Nikkei 225 is trading at 23,135.23 with a loss of –1.05% percent or –244.58 point. Hong Kong's Hang Seng is trading at 26,119.56 with a loss of –1.03% percent or –271.74 point. China's Shanghai Composite is trading at 2,877.76 with a loss of –0.26% percent or –7.53 point. India's BSE Sensex is trading at 40,601.31 with a loss of –0.18% percent or –74.14  point at 12:15 PM.Germany's DAX is trading at 13,134.98 up with +1.13% percent or +145.69 point. France's CAC 40 is trading at 5,799.19 up with +1.25% percent or +71.45 point. The Stoxx Europe 600 is trading at 402.52  up with 1.01% percent or +4.04  point.
Wednesday's Factors and Events
This quant fund screens for U.S.-listed midcaps that combine momentum, earnings growth and cheap valuations. For valuation, companies have to trade for a price-to-sales ratio below 1.5 to make the cut.
It makes sense to focus on value names in the mo-mo arena for a simple reason: Value is really out of favor. It looks like a good contrarian bet and a way to profit from the "reversion to the mean" tactic which helped make Ray Dalio of Bridgewater a billionaire.
Consider this remarkable datapoint, again courtesy of Linehan at T. Rowe Price. The market's cheapest stocks (the bottom 20% by forward price-earnings multiples) now make up less than 5% of the top 20% of momentum names. This, too, is a rare event. The percentage has narrowed this much only six times in the past 30 years. Each time, value went on to post a remarkable rally for at least a year or more.
Tuesday Activity
For the day The Nasdaq Composite is trading at 8,520.64 with a loss of –0.55% percent or –47.34 point.the Dow is trading at 27,502.81 with a loss of –1.01% percent or –280.23 point. The S&P 500 is trading at 3,093.20  with a loss of –0.66% percent or –20.67 point.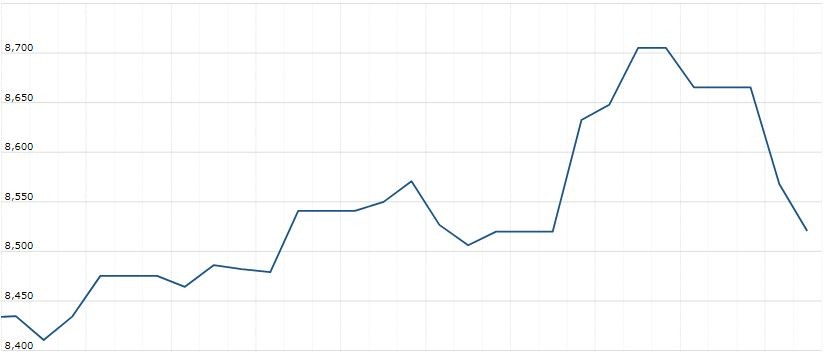 Other leading market index closes included the small-cap Russell 2000 Index closed at 1,602.63  with a loss of –0.31% percent or -4.95 point; the S&P 600 Small-Cap Index closed at 977.51 with a loss of –0.41% percent or -4.06 point; the S&P 400 Mid-Cap Index closed at 1,983.92 with a loss of –0.60% percent or -11.94   point; the S&P 100 Index closed at 1,377.76 with a loss of –0.69% percent or -9.62 point; the Russell 3000 Index closed at 1,814.41  with a loss of –0.61% percent or -11.12 point; the Russell 1000 Index closed at 1,710.60 with a loss of -0.63%  or -10.85  point.