U.S. stock futures higher in pre-market trading for,Dec 12.The Nasdaq Futures is trading  at 8,416.38 up with +0.13%  percent or +10.88 point.The Dow Futures is trading at 27,947.00  up with +0.08% percent or +23.00 point.The S&P 500 Futures is trading at 3,146.12 up  with +0.10% percent or +3.12 point. 

In overnight trading in the Eastern Hemisphere,In other parts of world, Japan's Nikkei 225 is trading at 23,424.81 up with +0.14% percent or +32.95 point. Hong Kong's Hang Seng is trading at 26,991.23 up with +1.30% percent or +345.80 point. China's Shanghai Composite is trading at 2,915.70 with a loss of –0.30% percent or –8.72 point. India's BSE Sensex is trading at 40,505.33 up with +0.23% percent or +92.76 point at 12:15 PM.Germany's DAX is trading at 13,167.94 up with +0.16% percent or +21.20 point. France's CAC 40 is trading at 5,867.99  up with +0.12% percent or +7.12 point. The Stoxx Europe 600 is trading at 406.55  up with +0.08% percent or +0.33   point.
Thursday's Factors and Events
"Economic growth is 2 percent, and CPI inflation is also running somewhat above 2 percent in November," MUFG chief economist Chris Rupkey noted. "There are not worrisome deflation undercurrents in this economy and Fed officials do not need to cut interest rates further to boost economic demand. The economy is better than they think."
Meanwhile, the market is hoping for a delay on an increase in Dec. 15 tariffs on some $160 billion of consumer goods from China as a sign of progress on trade talks. So far, reports have been conflicting.
Wednesday Activity
For the dayThe Nasdaq Composite is trading at 8,654.05 up with +0.44% percent or +37.87 point.the Dow is trading at 27,911.30 up with +0.11% percent or +29.58  point. The S&P 500 is trading at 3,141.63 up with +0.29% percent or +9.11 point.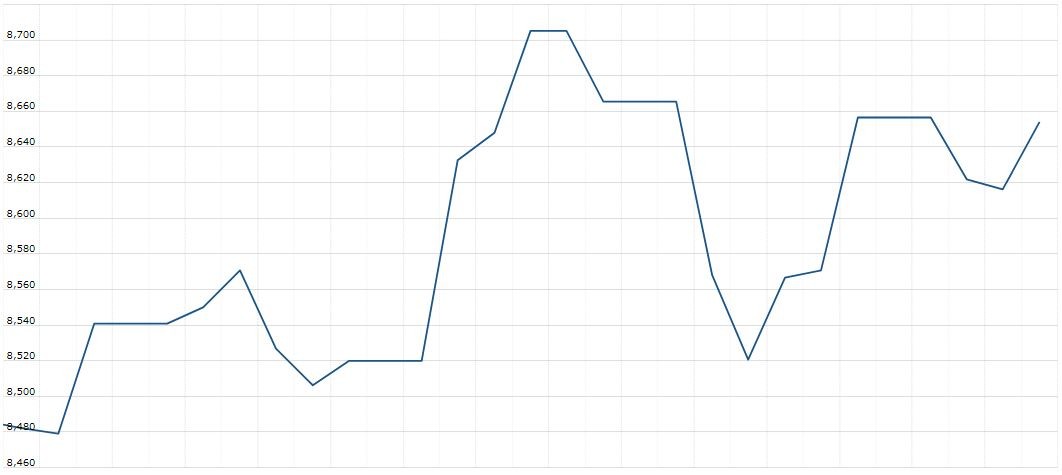 Other leading market index closes included the small-cap Russell 2000 Index closed at 1,631.93 up with +0.01%  percent or +0.21 point; the S&P 600 Small-Cap Index closed at 999.04  up with +0.017% percent or +0.17 point; the S&P 400 Mid-Cap Index closed at 2,015.75 up with +0.20% percent or +4.00   point; the S&P 100 Index closed at 1,400.83 up with +0.29% percent or +4.07 point; the Russell 3000 Index closed at 1,841.25 up with +0.25% percent or +4.52 point; the Russell 1000 Index closed at 1,735.49 up with +0.26% or +4.55  point.