U.S. stock futures lower in pre-market trading for,Dec 17.The Nasdaq Futures is trading at 8,600.88 with a loss of  -0.06%  percent or -5.12 point.The Dow Futures is trading at 28,194.50  with a loss of -0.24% percent or -68.50 point.The S&P 500 Futures is trading at 3,193.62 with a loss of -0.15% percent or -4.88 point.

In overnight trading in the Eastern Hemisphere,In other parts of world, Japan's Nikkei 225 is trading at 24,066.12 up with +0.47% percent or +113.77 point. Hong Kong's Hang Seng is trading at 27,791.82 up with +1.04% percent or +285.33 point. China's Shanghai Composite is trading at 3,022.42 up with +1.27% percent or +38.03 point. India's BSE Sensex is trading at 41,283.68 up with +0.84% percent or +344.27 point at 12:15 PM.Germany's DAX is trading at 13,299.96  with a loss of –0.80% percent or –107.70 point. France's CAC 40 is trading at 5,965.78  with a loss of –0.43% percent or –25.87 point. The Stoxx Europe 600 is trading at 414.87  with a loss of -0.71% percent or -2.97   point.
Tuesday's Factors and Events
"The most important thing that happened with the phase-one deal was that we have moved from a one-year-long period of escalation to de-escalation," said Allan von Mehren, analyst at Danske Bank, in a note. But a lack of detail could serve to temper investor enthusiasm, he said.
It is "unusual" to announce a deal before it has been completed with all legal text that both sides have agreed to, von Mehren said. The lack of text adds to the sense that the announcement of the pact was "not coordinated."
Monday Activity
For the day The Nasdaq Composite is trading at 8,814.23 up with +0.91% percent or +79.35 point.the Dow is trading at 28,235.89 up with +0.36% percent or +100.51 point. The S&P 500 is trading at 3,191.45 up with +0.71% percent or +22.65 point.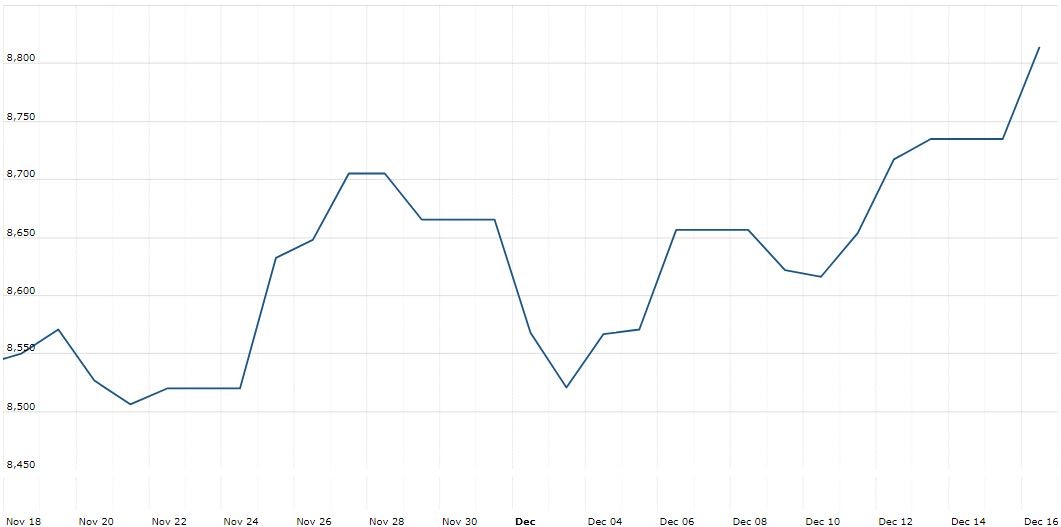 Other leading market index closes included the small-cap Russell 2000 Index closed at 1,649.94 up with +0.73%  percent or +11.96  point; the S&P 600 Small-Cap Index closed at 1,007.93  up with +0.51% percent or +5.14 point; the S&P 400 Mid-Cap Index closed at 2,038.46 up with +0.68% percent or +13.74   point; the S&P 100 Index closed at 1,423.85 up with +0.72% percent or +10.23 point; the Russell 3000 Index closed at 1,869.31 up with +0.73% percent or +13.56 point; the Russell 1000 Index closed at 1,762.45 up with +0.73% or +12.79 point.