U.S. stock futures higher in pre-market trading for,Jan 28.The Nasdaq Futures is trading at 8,995.88 up with +0.46% percent or +41.38 point.The Dow Futures is trading at 28,550.00  up with +0.24% percent or +69.00 point.The S&P 500 Futures is trading at 3,246.62 up with +0.22% percent or +7.12 point.
In overnight trading in the Eastern Hemisphere,In other parts of world, Japan's Nikkei 225 is trading at 23,215.71 with a loss of –0.55% percent or –127.80   point. Hong Kong's Hang Seng is trading at 27,949.64 up with +0.15% percent or +40.52  point. China's Shanghai Composite is trading at 2,976.53 with a loss of –2.75% percent or –84.23 point. India's BSE Sensex is trading at 41,231.86 up with +0.19% percent or +76.74 point at 12:15 PM.Germany's DAX is trading at 13,189.14 with a loss of –0.12% percent or –15.63 point. France's CAC 40 is trading at 5,869.18 up with +0.11%  percent or +6.16 point. The Stoxx Europe 600 is trading at 413.73 with a loss of -0.08% percent or –0.35 point.
Tuesday's Factors and Events
Wuhan's mayor Zhou Xianwang said that 5 million of the city's 11 million people had left the city before the travel ban was imposed. As well, reports that the virus may be infectious during its roughly 14-day incubation period may make containment more challenging.
Concerns have been growing about the potential impact of the virus on China's economy, which is set to slow to around 5.7% in 2021 from 6.1% last year, down from its near double-digit growth when the severe acute respiratory syndrome, or SARS, hit in 2002-03, according to data from the International Monetary Fund.
Monday Activity
For the day The Nasdaq Composite is trading at 9,139.31 with a loss of –1.89% percent or –175.60 point.the Dow is trading at 28,535.80 with a loss of –1.57% percent or –453.93  point. The S&P 500 is trading at 3,243.63  with a loss of –1.57% percent or -51.84 point.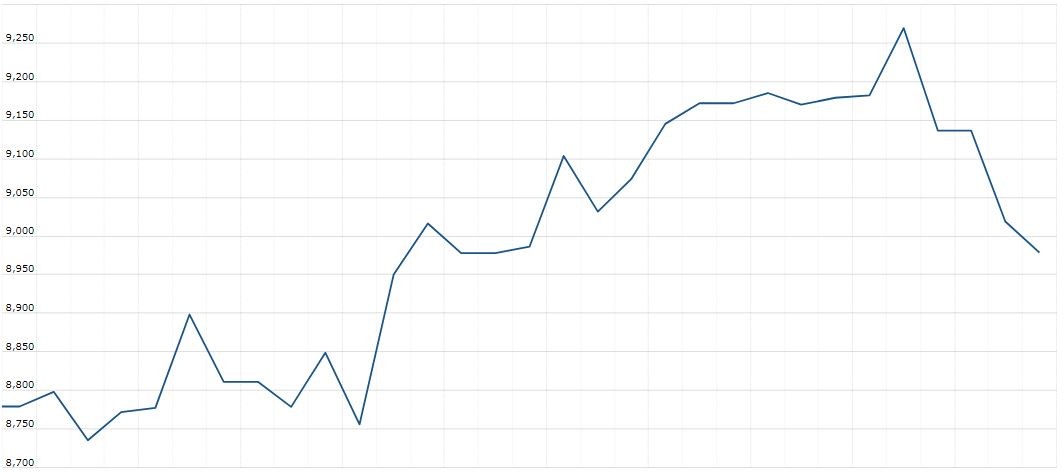 Other leading market index closes included the small-cap Russell 2000 Index closed at 1,644.14 with a loss of -1.09%  percent or -18.09 point; the S&P 600 Small-Cap Index closed at 1,003.93  with a loss of –1.19% percent or 12.05 point; the S&P 400 Mid-Cap Index closed at 2,035.97 with –1.41% percent or -29.18 point; the S&P 100 Index closed at 1,451.20  with a loss of –1.58% percent or -23.24  point; the Russell 3000 Index closed at 1,899.62  with a loss of -1.53% percent or -29.50 point; the Russell 1000 Index closed at 1,793.47 with a loss of –1.56% or -28.41 point.