U.S. stock higher higher in pre-market trading for,Feb 17.The Nasdaq Futures is trading at 9,672.25 up with +0.42% percent or +40.00 point.The Dow Futures is trading at 29,436.50  up with +0.14% percent or +41.50 point.The S&P 500 Futures is trading at 3,388.88  up with +0.23% percent or +7.88 point.
In overnight trading in the Eastern Hemisphere,In other parts of world, Japan's Nikkei 225 is trading at 23,523.24 with a loss of –0.69% percent or –164.35 point. Hong Kong's Hang Seng is trading at 27,961.00 up with +0.52% percent or +145.40 point. China's Shanghai Composite is trading at 2,983.62 up with +2.28% percent or +66.61 point. India's BSE Sensex is trading at 41,136.63 with a loss of –0.29% percent or –118.87 point at 12:15 PM.Germany's DAX is trading at 13,769.04  up with 0.18% percent or +24.83 point. France's CAC 40 is trading at 6,078.57 UP with +0.15% percent or +9.22 point. The Stoxx Europe 600 is trading at 431.54 up with +0.24% percent or +1.02 point.
Monday's Factors and Events
The United States markets are closed today to celebrate President's Day, leaving Asia to its own devices for a change, although volumes may be somewhat muted because of it. While celebrating U.S. presidents and presidential wannabees in the present day and age may be somewhat of an oxymoron for many of us, that has left weekend coronavirus developments and Asian economic data to dominate the start of the week.
With coronavirus and its potential downstream effects still grabbing the headlines, one glimmer of hope is that new cases in China appear to be occurring at a lower rate. That has been overshadowed by the release of Japan's Tankan Index and Preliminary Q4 GDP which made grim reading. The Reuters Tankan Index fell to -5 but Q4 Preliminary GDP fell -1.60% QoQ and a whopping -6.30% YoY as Japanese consumers stayed home after the October sales tax hike. With the data not even encompassing the inevitable coronavirus slowdown to start the New Year, it suggests that more stimulus is on the way sooner rather than later in Japan.
Friday Activity
For the day The Nasdaq Composite is trading at 9,731.18 up with +0.20% percent or +19.21 point.the Dow is trading at 29,398.08 with a loss of –0.086% percent or –25.23   point. The S&P 500 is trading at 3,380.16 up with +0.18% percent or +6.22 point.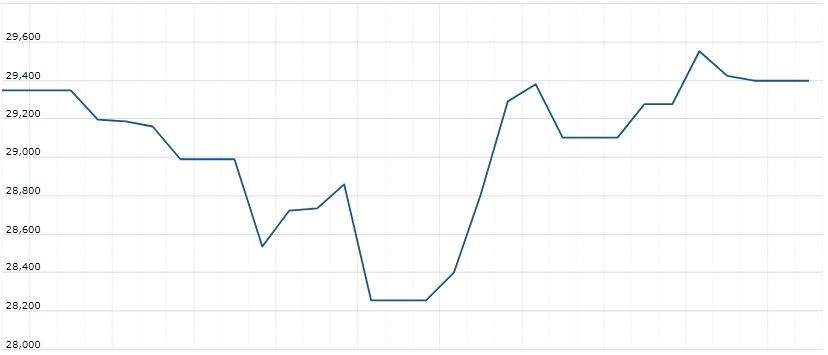 Other leading market index closes included the small-cap Russell 2000 Index closed at 1,687.58 up with -0.36% percent or -6.15 point; the S&P 600 Small-Cap Index closed at 1,018.27 with a loss of –0.51% percent or -5.20 point; the S&P 400 Mid-Cap Index closed at 2,096.61 with a loss of –0.032% percent or -0.68 point; the S&P 100 Index closed at 1,515.53 up with +0.15% percent or +2.30 point; the Russell 3000 Index closed at 1,979.52 up  with +0.17% percent or +3.30 point; the Russell 1000 Index closed at 1,870.83 up with +0.20% or +3.79 point.