U.S. stock higher lower in pre-market trading for,Feb 20.The Nasdaq Futures is trading at 9,715.50 with a loss of -0.18% percent or -18.00 point.The Dow Futures is trading at 29,288.50 with a loss of -0.17% percent or -48.50 point.The S&P 500 Futures is trading at 3,381.38 with a loss of -0.17% percent or -5.87 point.
In overnight trading in the Eastern Hemisphere,In other parts of world, Japan's Nikkei 225 is trading at 23,479.15 up with +0.34% percent or +78.45 point. Hong Kong's Hang Seng is trading at 27,587.97 with a loss of  –0.25% percent or ?67.84 point. China's Shanghai Composite is trading at 3,030.15 up with  +1.84% percent or +54.75 point. India's BSE Sensex is trading at 41,393.37 up with +0.17% percent or +70.37 point at 12:15 PM.Germany's DAX is trading at 13,783.69 with a loss of – 0.039% percent or –5.31 point. France's CAC 40 is trading at 6,101.34 with a loss of –0.16% percent or –9.90 point. The Stoxx Europe 600 is trading at 432.64 with a loss of -0.29% percent or -1.26   point.
Thursday's Factors and Events
Canadian Core Inflation printed at a respectable 1.80% overnight and even Australia had some good news, adding 13,500 jobs in January. More pleasingly, although part-time employment fell by 32,700, full-time jobs rose by 46,200, showing no sign of a China virus slowdown. It is somewhat of a surprise than that the Australian dollar has fallen this morning even as equities jumped to a record high. It is perhaps because of a sense of disbelief from the men down under, with the Employment data notoriously fickle and the Australian Bureau of Statistics often the butt of cost-cutting jokes.
Wednesday Activity
For the day The Nasdaq Composite is trading at 9,467.97 up with +2.10% percent or +194.57 point.the Dow is trading at 28,807.63 up with +1.44% percent or +407.82 point. The S&P 500 is trading at 3,297.59 up with +1.50% percent or +48.67 point.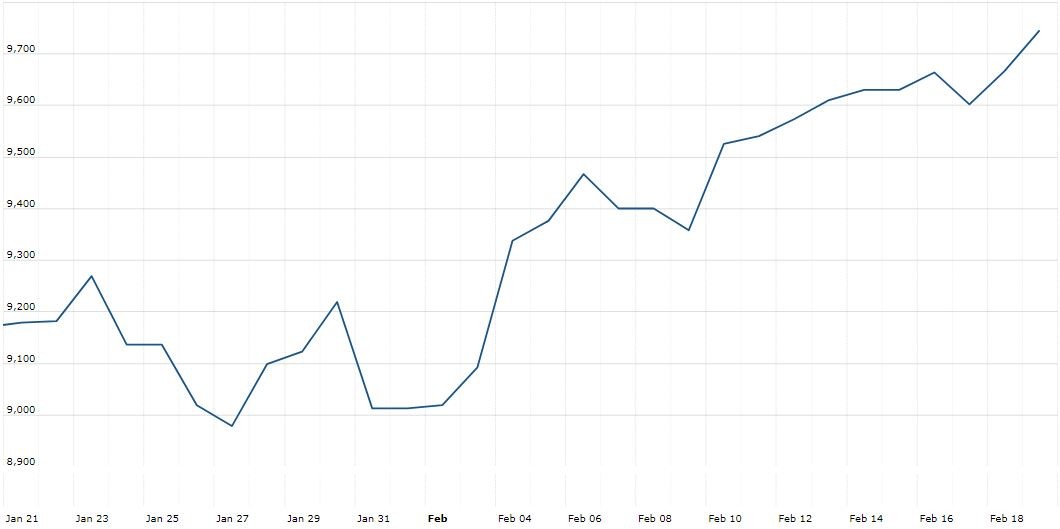 Other leading market index closes included the small-cap Russell 2000 Index closed at 1,692.57 up with +0.54% percent or +9.05 point; the S&P 600 Small-Cap Index closed at 1,016.31 up with +0.36% percent or +3.64 point; the S&P 400 Mid-Cap Index closed at 2,098.57 up with +0.45% percent or +9.38 point; the S&P 100 Index closed at 1,518.94 up with +0.52% percent or +7.82 point; the Russell 3000 Index closed at 1,984.26 up with +0.49% percent or +9.59 point; the Russell 1000 Index closed at 1,875.24 up with +0.48% or +9.00 point