U.S. stock  lower in pre-market trading for,March 16.The Nasdaq Futures is trading at 7,540.50 with a loss of -4.56% percent or -360.25 point.The Dow Futures is trading at 21,794.00 with a loss of -4.58% percent or -1,045.00 point.The S&P 500 Futures is trading at 2,555.38  with a loss of -4.79% percent or -128.62 point.
In overnight trading in the Eastern Hemisphere,In other parts of world, Japan's Nikkei 225 is trading at 17,002.04 with a loss of –2.46% percent or –429.01 point. Hong Kong's Hang Seng is trading at 22,946.96 with a loss of –4.52% percent or –1,085.95  point. China's Shanghai  Composite is trading at 2,789.25 with a loss of –3.40% percent or –98.17  point. India's BSE Sensex is trading at 32,175.03 with a loss of –5.65% percent or –1,928.45 point at 12:15 PM.Germany's DAX is trading at 8,552.39 with a loss of –7.36% percent or –679.69  point. France's CAC 40 is trading at 3,758.34 with a loss of –8.74% percent or –360.01 point. The Stoxx Europe 600 is trading at 275.89  with a loss of -7.78% percent or –23.27 point.
Monday's Factors and Events
The sickness is now officially considered a national emergency. As far as the market is concerned, investors already knew that! They watched the major indices plunge from all-time highs to bear market territory in the blink of an eye.
After Wednesday's poorly-received statements from the Oval Office, investors' response to the President's press conference today was "That's more like it!"
Unlike earlier in the week, he outlined specific plans to protect the country through this pandemic, including getting a lot more tests out there and filling up the strategic petroleum reserve.
Friday Activity
For the day The Nasdaq Composite is trading at 7,874.88 up with +9.35% percent or +673.07 point. the Dow is trading at 23,185.62 up with +9.36% percent or +1,985.00  point. The S&P 500 is trading at 2,711.02 up with +9.29% percent or +9.29% point.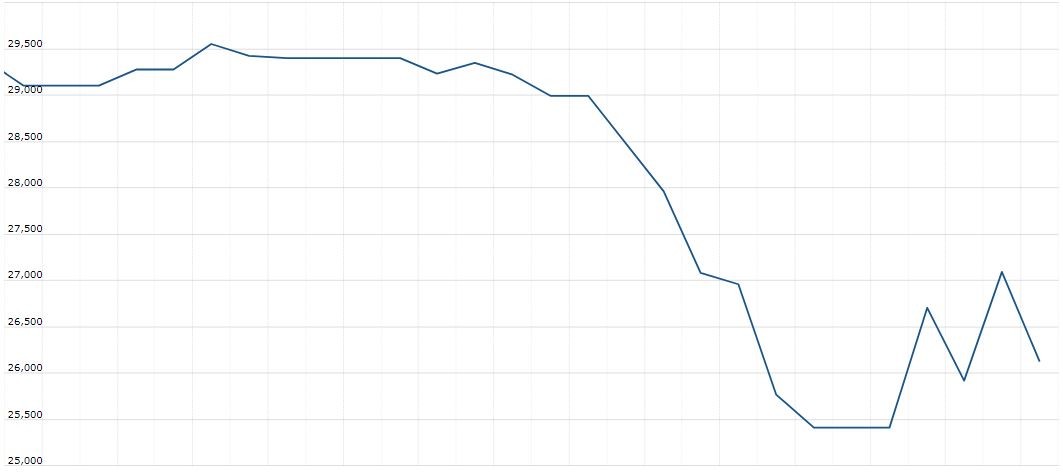 Other leading market index closes included the small-cap Russell 2000 Index closed at 1,210.13 up with +7.77% percent or +87.20 point; the S&P 600 Small-Cap Index closed at 725.98  up with +8.15% percent or +54.68 point; the S&P 400 Mid-Cap Index closed at 1,546.98 up with +8.43% percent or +120.24 point; the S&P 100 Index closed at 1,237.20  up with +10.13% percent or +113.77 point; the Russell 3000 Index closed at 1,564.71 up with a +8.97% percent or +128.77   point; the Russell 1000 Index closed at 1,488.04  up with +9.04% or +123.38 point.