U.S. stock  lower in pre-market trading for,March 18.The Nasdaq Futures is trading at 7,062.12  with a loss of -4.47% percent or -330.13 point.The Dow Futures is trading at 20,026.50 with a loss of -4.00% percent or -833.50 point.The S&P 500 Futures is trading at 2,393.38   with a loss of -3.71% percent or -92.12 point.
In overnight trading in the Eastern Hemisphere,In other parts of world, Japan's Nikkei 225 is trading at 16,726.55 with a loss of –1.68% percent or ?284.98 point. Hong Kong's Hang Seng is trading at 22,418.44 with a loss of –3.63% percent or ?845.29 point. China's Shanghai  Composite is trading at 2,728.76 with a loss of –1.83% percent or ?50.88  point. India's BSE Sensex is trading at 29,401.38  with a loss of –3.85% percent or ?1,177.71 point at 12:15 PM.Germany's DAX is trading at 8,456.50 with a loss of –5.40% percent or –482.60  point. France's CAC 40 is trading at 3,774.55 with a loss of –5.44% percent or –217.22 point. The Stoxx Europe 600 is trading at 278.39  with a loss of -4.36% percent or -12.75 point.
Wednesday's Factors and Events
We live in the strangest of times where a 24 hour period can feel like 24 days.
Just yesterday, I wrote that I wasn't sure if Donald Trump's acknowledgement of a potential recession from the coronavirus would help gold as a safe haven, since two U.S. rate cuts within two weeks haven't done anything for the yellow metal. 
But the events of the past 24 hours make me wonder if I have to recant that view.
That's because on Tuesday, the President of the United States fired a flurry of economic stimulus rockets at the pandemic. The biggest of these carried a $1 trillion capital-infusing warhead, designed to take out the economic decapitating forces of the scourge before it claims more American businesses and jobs.
Tuesday Activity
For the day The Nasdaq Composite is trading at 7,334.78 up with +6.23% percent or +430.19  point.the Dow is trading at 21,237.38 up with +5.20% percent or +1,048.86 point. The S&P 500 is trading at 2,529.19 up  with +6.00% percent or +143.06 point.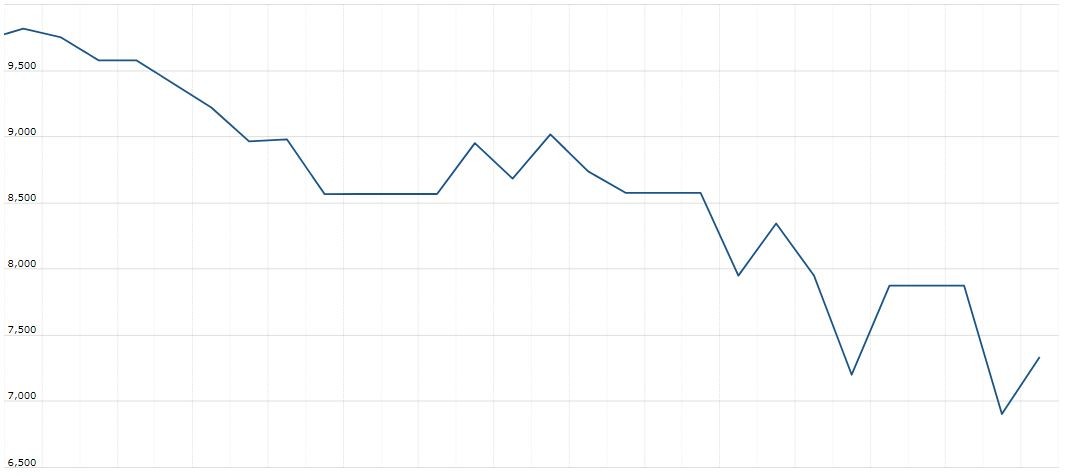 Other leading market index closes included the small-cap Russell 2000 Index closed at 1,106.51 up with +6.66% percent or +69.09 point; the S&P 600 Small-Cap Index closed at 670.06  up with +6.47% percent or +40.70 point; the S&P 400 Mid-Cap Index closed at 1,403.28  with 5.18% percent or +69.16 point; the S&P 100 Index closed at 1,159.11  up with +5.94% percent or  +65.04 point; the Russell 3000 Index closed at 1,451.41 up with +5.79% percent or +79.43   point; the Russell 1000 Index closed at 1,381.49  up with +5.74% or +74.97 point.