U.S. stock  lower in pre-market trading for,March 31.The Nasdaq Futures is trading at 7,858.38 up with +0.05% percent or +3.63 point.The Dow Futures is trading at 22,138.50 with a loss of -0.13% percent or -28.50 point.The S&P 500 Futures is trading at 2,604.75  with a loss of -0.25% percent or -6.50 point.
In other parts of world, Japan's Nikkei 225 is trading at 18,917.01 with a loss of –0.88% percent or –167.96 point. Hong Kong's Hang Seng is trading at 23,462.53 up with +1.24% percent or +287.42 point. China's Shanghai  Composite is trading at 2,750.30 up with +0.11% percent or +3.08 point. India's BSE Sensex is trading at 29,372.14  with  +3.28% percent or +931.82 point at 12:15 PM.Germany's DAX is trading at 9,855.99 up with 0.41% percent or +40.02 point. France's CAC 40 is trading at 4,376.26 with a loss of –0.051% percent or ?2.24 point. The Stoxx Europe 600 is trading at 317.54 with +0.84% percent or +2.68 point.
Tuesday's Factors and Events
The strategists also zero in on the role they believe hedge funds played in the recent market meltdown. They note that those funds loaded up on stocks going into the equity maelstrom, in a moment of incredibly bad timing, with the unwind coinciding with stocks melting down two weeks ago. Similar activity was seen in December 2018 and autumn 2008, they note.
DeSanctis and Lockenvitz say those hedge funds will likely start crowding back into their "tried and true" favorites — such as Microsoft MSFT, +7.03%, Google-parent Alphabet GOOGL, +3.24%, Facebook FB, +5.84%, Visa V, +2.48%, Amazon.com AMZN, +3.36%, Mastercard MSFT, +7.03%, Disney DIS, +3.52%, Union Pacific UNP, +0.82% and more.
Monday Activity
For the day The Nasdaq Composite is trading at 7,774.15 with +3.62% percent or +271.77 point.the Dow is trading at 22,327.48 up with +3.19% percent or +690.70 point. The S&P 500 is trading at 2,626.65 with +3.35% percent or +85.18 point.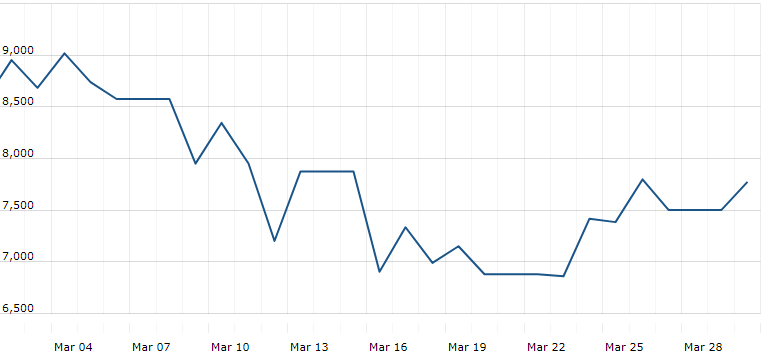 Other leading market index closes included the small-cap Russell 2000 Index closed at 1,158.32  with +2.33% percent or +26.33  point; the S&P 600 Small-Cap Index closed at 685.32 up with +2.30% percent or +15.44  point; the S&P 400 Mid-Cap Index closed at 1,459.15 up with +2.55% percent or +36.23  point; the S&P 100 Index closed at 1,204.14 up with +3.60% percent or +41.84  point; the Russell 3000 Index closed at 1,512.39 up with +3.14% percent or +46.03 point; the Russell 1000 Index closed at 1,439.13  with +3.19% or +44.47 point.