U.S. stock  Lower in pre-market trading for,April 15.The Nasdaq Futures is trading at 8,607.50 with a loss of -0.98% percent or -85.00 point.The Dow Futures is trading at 23,526.00 with a loss of -1.48% percent or -354.00 point.The S&P 500 Futures is trading at 2,794.38  with a loss of -1.71% percent or -48.62 point.
In other parts of world, Japan's Nikkei 225 is trading at 19,550.09 with a loss of –0.45% percent or –88.72 point. Hong Kong's Hang Seng is trading at 24,260.50 with a loss of –0.72%  percent or –174.90 point. China's Shanghai  Composite is trading at 2,811.17 with a loss of –0.57% percent or –16.11 point. India's BSE Sensex is trading at 31,382.00 up with +2.25% percent or +691.98  point at 12:15 PM.Germany's DAX is trading at 10,482.92 with a loss of –2.00% percent or ?213.64 point. France's CAC 40 is trading at 4,442.25 with a loss of –1.80% percent or –81.65 point. The Stoxx Europe 600 is trading at 328.13 with a loss of -1.73% percent or –5.78  point.
Wednesday's Factors and Events
The spread of the coronavirus in the U.S. is stabilizing. All eyes are on New York, as new cases and hospitalizations in the hardest-hit section of the country looks to be leveling off. Just yesterday, the Governor said that the worst appears to be over.
Such news outshined difficult reports from JPMorgan (NYSE:JPM, -2.7%) and Wells Fargo (NYSE:WFC, -4%), which drove the banks lower and provides the first glimpse at just how bad this shutdown will be on corporate results and, especially, their outlooks for the future.
And the big financial names are just getting started, as Goldman Sachs (NYSE:GS), Morgan Stanley (NYSE:MS), Bank of America (NYSE:BAC) and Citigroup (NYSE:C) are scheduled for tomorrow.
Tuesday Activity
For the day The Nasdaq Composite is trading at 8,515.74 up with +3.95% percent or +323.32 point.the Dow is trading at 23,949.76 up with 2.39% percent or +558.99 point. The S&P 500 is trading at 2,846.06 up with +3.06% percent or +84.43  point.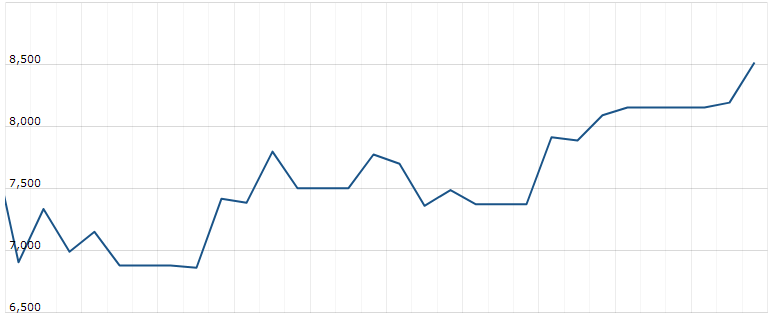 Other leading market index closes included the small-cap Russell 2000 Index closed at 1,237.33 up with +2.09% percent or +25.29  point; the S&P 600 Small-Cap Index closed at 731.10 up with +1.77% percent or +12.75 point; the S&P 400 Mid-Cap Index closed at 1,570.52 up with +2.15% percent or +33.05 point; the S&P 100 Index closed at 1,307.09 up with +3.21% percent or +40.62  point; the Russell 3000 Index closed at 1,637.83 up with +2.99% percent or +47.52 point; the Russell 1000 Index closed at 1,559.79 p with +3.04% or +46.05 point.