U.S. stock  higher in pre-market trading for,May 12.The Dow Futures is trading at 24,179.00 up with +0.23% percent or +55.00 point. The S&P 500 Futures is trading at 2,927.12 up with +0.15% percent or +4.37 point.The Nasdaq Futures is trading at 9,298.50 up with +0.21%percent or +19.50 point.
In other parts of world, Japan's Nikkei 225 is trading at 20,366.48 with a loss of –0.12% percent or –24.18  point. Hong Kong's Hang Seng is trading at 24,245.68 with a loss of –1.45% percent or –356.38  point. China's Shanghai  Composite is trading at 2,891.56 with a loss of –0.11% percent or –3.25 point. India's BSE Sensex is trading at 31,447.05  with a loss of –0.36% percent or –114.17  point at 12:15 PM.Germany's DAX is trading at 10,874.46 UP with +0.46% percent or +49.47 point. France's CAC 40 is trading at 4,482.86 with a loss of –0.16% percent or –7.35 point. The Stoxx Europe 600 is trading at 341.44 up with +0.51% percent or +1.74  point.
Tuesday's Factors and Events
The $5,000 would be structured as a loan with a government-set interest rate that would reimburse the Social Security trust fund with interest. Individuals who opt into the program would pay that money back when they start collecting Social Security benefits. Their first checks would go toward repaying the loan, for a period of up to three months. After that, they would receive normal benefits.
Monday Activity
For the day the Dow is trading at 24,221.99  with a loss of -0.45% percent or -109.33  point. The S&P 500 is trading at 2,930.32 up with +0.018% percent or +0.52 point. The Nasdaq Composite is trading at 9,192.34 up with +0.78%percent or +71.02 point.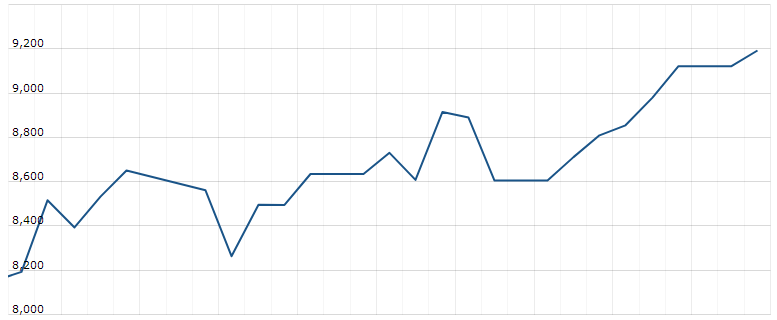 Other leading market index closes included the small-cap Russell 2000 Index closed at 1,321.24 with a loss of -0.63% percent or -8.40 point; the S&P 600 Small-Cap Index closed at 756.76 with a loss of –1.83% percent or ?14.11 point; the S&P 400 Mid-Cap Index closed at 1,663.48 with a loss of –0.76% percent or -12.70 point; the S&P 100 Index closed at 1,348.41 up with +0.24% percent or +3.22 point; the Russell 3000 Index closed at 1,700.03 with a loss of –0.029% percent or -0.49  point; the Russell 1000 Index closed at 1,616.24 up with +0.0087%or +0.14 point.