U.S. stock  higher in pre-market trading for,May 15.The Nasdaq Futures is trading at 9,017.25 with a loss of -0.69% percent or -62.25 point.The Dow Futures is trading at 23,351.00 with a loss of -0.78% percent or -183.00 point.The S&P 500 Futures is trading at 2,826.12  with a loss of -0.73% percent or -20.88 point.
In other parts of world, Japan's Nikkei 225 is trading at 20,037.47 up with +0.62% percent or +122.69 point. Hong Kong's Hang Seng is trading at 23,809.69 with a loss of –0.084% percent or –20.05  point. China's Shanghai  Composite is trading at 2,868.46  with a loss of –0.066% percent or –1.88 point. India's BSE Sensex is trading at 30,955.62 with a loss of –0.54% percent or –167.27  point at 12:15 PM.Germany's DAX is trading at 10,421.44 up with +0.82% percent or +84.42 point. France's CAC 40 is trading at 4,272.42 with a loss of –0.017% percent or –0.71 point. The Stoxx Europe 600 is trading at 328.40 with up +0.52% percent or +1.69   point.
Friday's Factors and Events
More than 4.4 million coronavirus cases have been confirmed globally, according to data from Johns Hopkins University. The infection rate has been explosive in the United States, where there have been 1.4 million known cases.
Yields began their decline earlier this week after Federal Reserve Chairman Jerome Powell warned of "significant downside risks" from the coronavirus pandemic. The Fed chief's gloomy outlook has investors debating whether the U.S. central bank could make another big policy move soon.
Fixed income traders are also likely to be looking ahead to more economic figures due to be released Friday. Those include: retail sales, industrial production, business inventories and consumer sentiment.
Thursday Activity
For the day The Nasdaq Composite is trading at 8,943.72 up with +0.91% percent or +80.56  point.the Dow is trading at 23,625.34 up with +1.62% percent or +377.37  point. The S&P 500 is trading at 2,852.50 up with +1.15% percent or +32.50 point.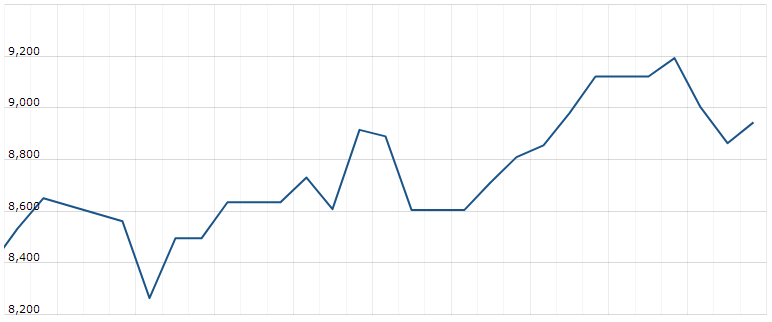 Other leading market index closes included the small-cap Russell 2000 Index closed at 1,237.55 with +0.35% percent or +4.30 point; the S&P 600 Small-Cap Index closed at 703.17 up with +0.37% percent or +0.37% point; the S&P 400 Mid-Cap Index closed at 1,567.15 up with +1.06% percent or +16.45 point; the S&P 100 Index closed at 1,317.39 up with +1.11% percent or +14.52 point; the Russell 3000 Index closed at 1,648.61 up with +1.12% percent or +18.24 point; the Russell 1000 Index closed at 1,570.65 with 1.17% or +18.09 point.