U.S. stock  higher in pre-market trading for,June 02.The Nasdaq Futures is trading at 9,656.62 up with +0.64% percent or +61.62 point.The Dow Futures is trading at 25,646.00 up with +0.72% percent or +183.00 point.The S&P 500 Futures is trading at 3,072.88 up with +0.62% percent or +18.88 point.
In other parts of world, Japan's Nikkei 225 is trading at at 22,325.61  up with +1.19% percent or +263.22 point. Hong Kong's Hang Seng is trading at 23,906.84  up with +0.73% percent or +174.32  point. China's Shanghai  Composite is trading at 2,920.01 up with +0.16% percent or +4.58 point. India's BSE Sensex is trading at 33,582.38 up with +0.84% percent or +278.86 point at 12:15 PM.Germany's DAX is trading at 12,044.05 up with +3.95% percent or +457.20  point. France's CAC 40 is trading at 4,862.05 up with +2.08% percent or +99.27 point. The Stoxx Europe 600 is trading at 360.10 up with +1.67% percent or +5.90 point.
Tuesday's Factors and Events
the stock market rose by an astounding 159%, or roughly 14% annualized. With such a large gain in the financial markets, one would expect a commensurate growth rate in the economy.
After 3-massive Federal Reserve driven "Quantitative Easing" programs, a maturity extension program, bailouts of TARP, TGLP, TGLF, etc., HAMP, HARP, direct bailouts of Bear Stearns, AIG (NYSE:AIG), General Motors (NYSE:GM), bank supports, etc., all of which totaled more than $33 Trillion, cumulative real economic growth was just 5.48%.
While monetary interventions are supposed to be supporting economic growth through increases in consumer confidence, the outcome has been quite different.
Monday Activity
For the day The Nasdaq Composite is trading at 9,552.05 up with +0.66% percent or +62.18 point.the Dow is trading at 25,475.02 up with +0.36% percent or +91.91 point. The S&P 500 is trading at 3,055.73  up with +0.38% percent or +11.42 point.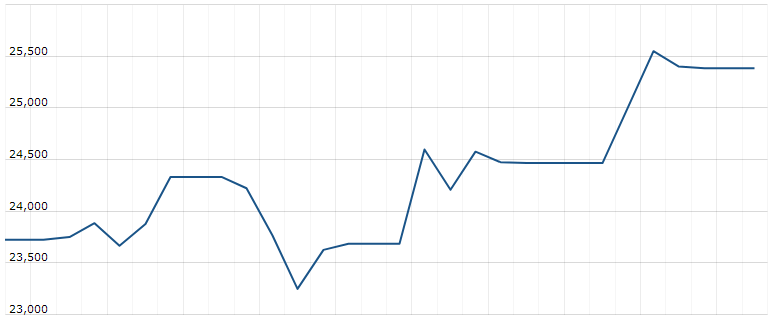 Other leading market index closes included the small-cap Russell 2000 Index closed at 1,405.37 up with +0.81% percent or +11.34 point; the S&P 600 Small-Cap Index closed at 811.00 up with +0.98% percent or +7.89 point; the S&P 400 Mid-Cap Index closed at 1,784.04 up with +1.14% percent or +20.09 point; the S&P 100 Index closed at 1,392.95 up with +0.24%percent or +3.32  point; the Russell 3000 Index closed at 1,780.52 up with +0.52% percent or +9.15 point; the Russell 1000 Index closed at 1,691.13 up with +0.50% or +8.38 point.