U.S. stock  higher in pre-market trading for,June 12.The Nasdaq Futures is trading at 9,765.25 up with +1.54% percent or +148.50 point.The Dow Futures is trading at 25,757.50 up with +2.35% percent or +592.50 point. The S&P 500 Futures is trading at 3,069.38  up with +1.96% percent or +59.13 point. 
In other parts of world, Japan's Nikkei 225 is trading at at 22,305.48  with a loss of –0.75% percent or –167.43 point. Hong Kong's Hang Seng is trading at 24,220.46 with a loss of –1.06%percent or –259.69 point. China's Shanghai  Composite is trading at 2,919.74  with a loss of –0.040% percent or –1.16 point. India's BSE Sensex is trading at 33,021.23 with a loss of -1.54% percent or –517.14 point at 12:15 PM.Germany's DAX is trading at 12,077.16 up with +0.89% percent or +106.87 point. France's CAC 40 is trading at 4,903.65 up with +1.83% percent or +88.06  point. The Stoxx Europe 600 is trading at 356.64 with +1.01% percent or +3.57point.
Friday's Factors and Events
 The Dow Jones Industrial Average tumbled 6.9%, or 1,800 points, the biggest one-day drop in three months. Risk aversion was in full swing, with currencies falling across the board and oil dropping by its largest amount in two months. The U.S. dollar traded sharply higher on safe-haven flows. The Australian dollar was hit the hardest, with the Canadian and New Zealand dollars trailing not far behind. Sterling also fell sharply and surprisingly the euro was the most resilient, but it also succumbed to end-of-day losses. There's wasn't one, but many, catalysts for the meltdown in stocks. Instead, the lack of additional stimulus from the Fed, Chairman Jerome Powell's cautiously optimistic tone, profit-taking and worries about a second wave of coronavirus cases after spikes in Texas, Arizona and California all contributed to the decline.
Thursday Activity
For the day The Nasdaq Composite is trading at 9,492.73 with a loss of -5.27% percent or -527.62  point.the Dow is trading at 25,128.17 with a loss of -6.90%percent or -1,861.82 point. The S&P 500 is trading at 3,002.10 with a loss of –5.89% percent or -188.04 point.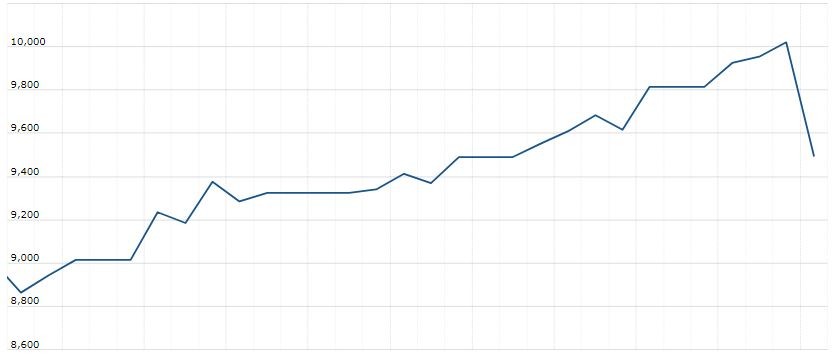 Other leading market index closes included the small-cap Russell 2000 Index closed at 1,356.22  with a loss of –7.58% percent or -111.17 point; the S&P 600 Small-Cap Index closed at 792.25  with a loss of –8.21% percent or -70.84 point; the S&P 400 Mid-Cap Index closed at 1,724.62 with a loss of –7.15% percent or -132.84 point; the S&P 100 Index closed at 1,376.79 with a loss of –5.69% percent or -82.99 point; the Russell 3000 Index closed at 1,746.70 with a loss of -6.02% percent or -111.84  point; the Russell 1000 Index closed at 1,660.70 with a loss of -5.92% or -104.50 point.