U.S. stock  higher in pre-market trading for,June 26.The Nasdaq Futures is trading at 10,116.20 up with +0.28%  percent or  +28.00 point.The Dow Futures is trading at 25,617.00 up with +0.08% percent or +21.00 point.The S&P 500 Futures is trading at 3,079.62  up with +0.29% percent or +8.87 point.
In other parts of world, Japan's Nikkei 225 is trading at at 22,512.08  up with +1.13% percent or +252.29  point. Hong Kong's Hang Seng is trading at 24,543.17 with a loss of –0.96% percent or –238.41  point. China's Shanghai  Composite is trading at 2,979.55 up with +0.30% percent or +8.93  point. India's BSE Sensex is trading at 35,015.29 up with +0.50%  percent or +173.19  point at 12:15 PM.Germany's DAX is trading at 12,321.89  UP with +1.18% percent or +144.02 point. France's CAC 40 is trading at 5,004.00 up with +1.74% percent or +85.43  point. The Stoxx Europe 600 is trading at 364.42 up with +1.30% percent or +4.68  point.
Friday's Factors and Events
The harsh dose of COVID-19 reality capped a lousy night for the US, and by association, world markets. The Trump administration, fresh from chopping US visa availability, proposed fresh tariffs on an array of European goods, and tariffs on Chinese lobsters. The Défense Department also published a list of Chinese companies with uncomfortably close ties to the Chinese military. Meaning international companies may find doing business with them challenging in the future. Trade disagreements and tensions being precisely what the world does not need right now.
Thursday Activity
For the day The Nasdaq Composite is trading at 10,017.00 up with +1.09% percent or +107.84  point.the Dow is trading at 25,745.60 up with +1.18% percent or +299.66 point. The S&P 500 is trading at 3,083.76 up with +1.10% percent or +33.43  point.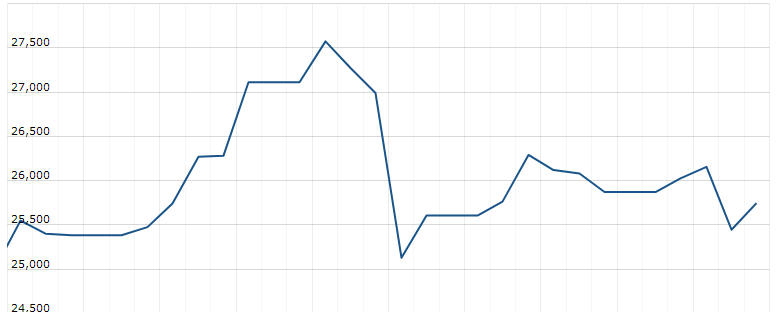 Other leading market index closes included the small-cap Russell 2000 Index closed at 1,413.31 up with +1.70% percent or +23.57  point; the S&P 600 Small-Cap Index closed at 812.00 up with +1.72% percent or +13.73 point; the S&P 400 Mid-Cap Index closed at 1,754.04 up with +1.30% percent or +22.56  point; the S&P 100 Index closed at 1,424.96 up with +1.14% percent or +16.12 point; the Russell 3000 Index closed at 1,797.52 up with 1.18%  percent or +20.96 point; the Russell 1000 Index closed at 1,707.70  up with +1.15%or +19.38 point.