U.S. stock higher in pre-market trading for,July 06.The Nasdaq Futures is trading at 10,475.40 up with +1.16%  percent or +119.63 point.The Dow Futures is trading at 26,086.00 up with +1.27% percent or +327.00 point.The S&P 500 Futures is trading at 3,164.12 up  with +1.12% percent or +35.12 point.
In other parts of world, Japan's Nikkei 225 is trading at at 22,714.44 up with +1.83% percent or +407.96 point. Hong Kong's Hang Seng is trading at 26,282.21 up with +3.58% percent or +909.09  point. China's Shanghai  Composite is trading at 3,331.11 up with +5.66% percent or +178.30  point. India's BSE Sensex is trading at 36,501.09 up with +1.33% percent or +479.67 point at 12:15 PM.Germany's DAX is trading at 12,734.17 up with +1.64% percent or +205.991 point. France's CAC 40 is trading at 5,090.35  up with +1.66% percent or +83.22 point. The Stoxx Europe 600 is trading at 370.52 up with +1.39% percent or +5.09  point.
Monday's Factors and Events
The bulls should feel pretty happy with how June turned out. The first few days of the month felt very much like a melt-up – and then a 6% loss on June 11 looked like it could be the start of something very bearish. Maybe it will prove to be, but that huge distribution day was actually the low of the month. You can attempt to draw a bullish or bearish narrative, but the S&P 500 traded flat from the June 11 close to finish the first half with a small loss.
Friday Activity
For the day the Dow is trading at 25,827.36 up with +0.36% percent or +92.39 point. The Nasdaq Composite is trading at 10,207.63 up with +0.52% percent or +53.00  point.The S&P 500 is trading at 3,130.01 up with +0.45% percent or +14.15 point.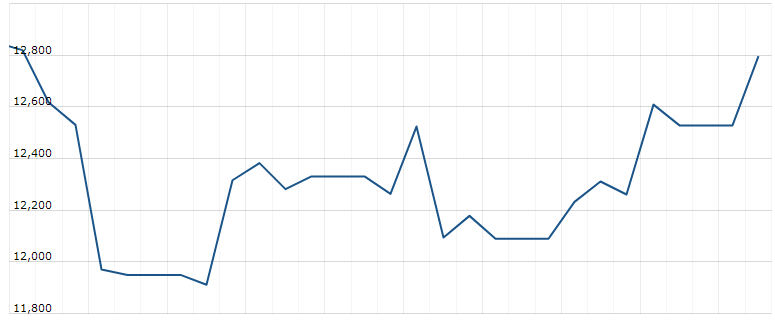 Other leading market index closes included the small-cap Russell 2000 Index closed at 1,431.86 up with +0.00%% percent or +0.00 point; the S&P 600 Small-Cap Index closed at 823.95 up with +0.50% percent or +4.13 point; the S&P 400 Mid-Cap Index closed at 1,778.95 up with +0.47% percent or +8.27 point; the S&P 100 Index closed at 1,442.95 up with +0.40% percent or +5.73  point; the Russell 3000 Index closed at 1,825.97 up with +0.47% percent or +8.55 point; the Russell 1000 Index closed at 1,735.01 up with +0.48% or +8.28 point.