U.S. stock lower in pre-market trading for,July 10.The Nasdaq Futures is trading at 10,681.40 with a loss  -0.43%  percent or -46.12 point.The Dow Futures is trading at 25,405.00 with a loss of -0.65% percent or -166.00 point.The S&P 500 Futures is trading at 3,123.12 with a loss of -0.57% percent or -17.88 point.
In other parts of world, Japan's Nikkei 225 is trading at at 22,290.81 with a loss of –1.06% percent or –238.48 point. Hong Kong's Hang Seng is trading at 25,727.41 with a loss of –1.84% percent or –482.75  point. China's Shanghai  Composite is trading at 3,383.32 with a loss of –1.95% percent or –67.27  point. India's BSE Sensex is trading at 36,641.76 with a loss of -0.26% percent or –95.93 point at 12:15 PM.Germany's DAX is trading at 12,594.09  up with +0.84% percent or ++104.63 point. France's CAC 40 is trading at 4,954.03 up with +0.67% percent or +33.03 point. The Stoxx Europe 600 is trading at 365.96 up with +0.64% percent or +2.32 point.
Friday's Factors and Events
The move shows how Wells Fargo, the largest U.S. mortgage lender, is operating under the dual pressures of the coronavirus pandemic and a Federal Reserve cap on its balance sheet. While the entire industry has tightened access to mortgages amid the pandemic, the pullback has been more pronounced at Wells Fargo, which can't grow its balance sheet thanks to the Fed order, one of a dozen regulatory constraints tied to the bank's 2016 fake accounts scandal.
Thursday Activity
For the day the Dow is trading at 25,706.09 with a loss of -1.39% percent or -361.19 point. The Nasdaq Composite is trading at 10,547.75 up with +0.53% percent or +55.25 point.The S&P 500 is trading at 3,152.05 with a loss of –0.56% percent or 17.89  point.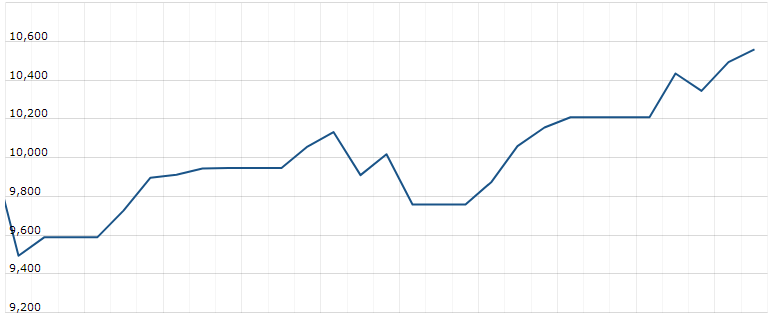 Other leading market index closes included the small-cap Russell 2000 Index closed at 1,398.92 with a loss of -2.00% percent or -28.48 point; the S&P 600 Small-Cap Index closed at 799.86 with a loss of –2.28% percent or -18.70  point; the S&P 400 Mid-Cap Index closed at 1,748.61 with a loss of –1.48% percent or ?26.25 point; the S&P 100 Index closed at 1,466.04 with a loss of –0.35% percent or -5.11  point; the Russell 3000 Index closed at 1,838.08  with a loss of –0.62% percent or -11.47 point; the Russell 1000 Index closed at 1,749.59 with a loss of -0.54% or ?9.48  point.