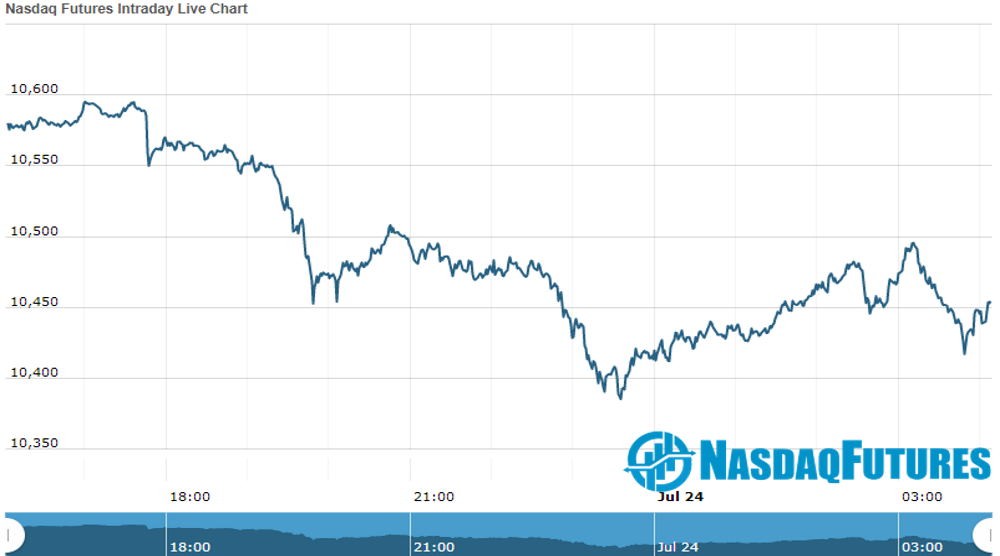 U.S. stock higher in pre-market trading for,July 24.The Nasdaq Futures is trading at 10,456.90 with a loss of -0.87% percent or -91.37 point.The Dow Futures is trading at 26,463.00 with a loss of -0.30% percent or -80.00 point.The S&P 500 Futures is trading at 3,216.38 with a loss of -0.34% percent or -11.12 point.
In other parts of world, Japan's Nikkei 225 is trading at at 22,751.61 with a loss of -0.58% percent or -132.61 point. Hong Kong's Hang Seng is trading at 24,666.30 with a loss of -2.36% percent or -596.70  point. China's Shanghai  Composite is trading at 3,196.77 with a loss of -3.86% percent or -128.34 point. India's BSE Sensex is trading at 37,828.20 with a loss of -0.82% percent or -312.27  point at 12:15 PM.Germany's DAX is trading at 12,908.99 with a loss of –1.48% percent or -194.40 point. France's CAC 40 is trading at 4,968.17  with a loss of –1.30% percent or –65.58 point. The Stoxx Europe 600 is trading at 368.55 with a loss of -1.36% percent or –5.10 point.
Friday's Factors and Events
 the Dow Jones snapped a four-day winning streak as investors weighed mixed corporate earnings results and an increase in US/China tensions. While a couple of US banks reported Q2 profits that beat analyst expectations and June retail sales rose 7.5% compared the 5.4% forecasts, Chinese stocks suffered their largest one-day decline since the start of the pandemic. This came after Beijing reported lower-than-expected consumer economic data and the Trump administration proposed a travel ban to the US on members of the Chinese Communist Party. On Friday, July 17, stocks were mixed as investors weighed disappointing consumer sentiment data and assessed the potential for additional US and European fiscal stimulus to combat the impact of COVID-19.
Thursday Activity
For the day The Nasdaq Composite is trading at 10,461.42 with a loss of -2.29% percent or -244.71 point.the Dow is trading at 26,652.33 with a loss of -1.31% percent or -353.51 point. The S&P 500 is trading at 3,235.66 with a loss of –1.23% percent or -40.36 point. 

Other leading market index closes included the small-cap Russell 2000 Index closed at 1,490.20 up with +0.00% percent or +0.06 point; the S&P 600 Small-Cap Index closed at 866.14  up with  +0.64% percent or +5.50 point; the S&P 400 Mid-Cap Index closed at 1,864.65  up with +0.12% percent or +2.25 point; the S&P 100 Index closed at 1,483.69 with a loss of –1.71% percent or -25.74  point; the Russell 3000 Index closed at 1,891.12 with a loss of –1.16% percent or -22.19 point; the Russell 1000 Index closed at 1,796.38 with a loss of –1.23% or  -22.36 point.