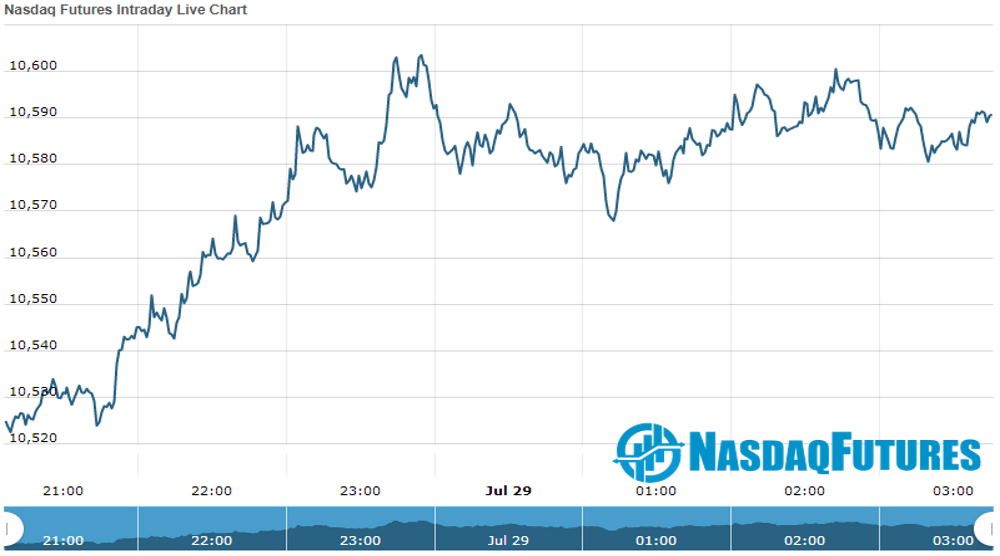 U.S. stock higher in pre-market trading for,July 29.The Nasdaq Futures is trading at 10,589.60 up with +0.47% percent or +49.62 point.The Dow Futures is trading at 26,300.00 up with +0.01% percent or +3.00 point.The S&P 500 Futures is trading at 3,218.12 up with +0.16% percent or +5.12 point.
In other parts of world, Japan's Nikkei 225 is trading at at 22,397.11 with a loss of –1.15% percent or –260.27 point. Hong Kong's Hang Seng is trading at 24,882.02 up with +0.44% percent or +109.26  point. China's Shanghai  Composite is trading at 3,285.42 up with +1.78% percent or +57.46 point. India's BSE Sensex is trading at 38,418.16 with a loss of -0.19% percent or –74.79  point at 12:15 PM.Germany's DAX is trading at 12,822.56 with a loss of –0.099% percent or -12.72 point. France's CAC 40 is trading at 4,963.82 up with +0.71% percent or +34.88 point. The Stoxx Europe 600 is trading at 367.72 up with +0.011% percent or +0.040 point.
Wednesday's Factors and Events
Coronavirus concerns remain with outbreaks and flare-ups across the globe making the prospect of a second wave very real. China, Hong Kong, France, Germany and Spain are all seeing a spike in COVID cases.
Spain is under the spotlight as the UK imposes a revised 10-day quarantine rule for those returning from the Iberian Peninsula. Spain is highly dependent on its tourism sector and these measures in peak season will negatively impact the fragile economic recovery there.
Tuesday Activity
For the day The Nasdaq Composite is trading at 10,402.09 with a loss of -1.27% percent or -134.18 point.the Dow is trading at 26,379.28 with a loss of -0.77% percent or -205.49 point. The S&P 500 is trading at 3,218.44  with  a loss of –0.65% percent or -20.97 point. 

Other leading market index closes included the small-cap Russell 2000 Index closed at 1,469.76 with a loss of –1.00% percent or -14.90 point; the S&P 600 Small-Cap Index closed at 855.41 with a loss of –0.74% percent or -6.42 point; the S&P 400 Mid-Cap Index closed at 1,848.74  with a loss of -0.99% percent or -18.53 point; the S&P 100 Index closed at 1,477.10 with a loss of –0.61% percent or -9.00  point; the Russell 3000 Index closed at 1,879.67 with a loss of –0.71% percent or -13.43 point; the Russell 1000 Index closed at 1,786.32 with a loss of –0.69% or  -12.45 point.