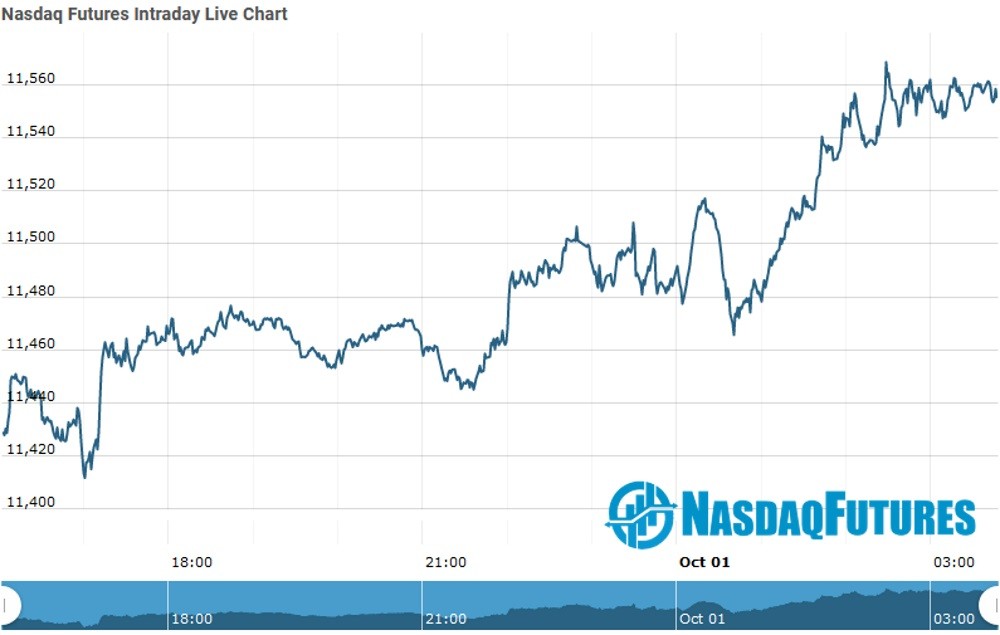 U.S. stock higher in pre-market trading for,Oct 01.The Nasdaq Futures is trading at 11,558.60 up with +1.33% percent or +151.37 point.The Dow Futures is trading at 27,853.50 up with +0.69% percent or +189.50 point.The S&P 500 Futures is trading at 3,380.12 up with +0.84% percent or +28.12 point.
In other parts of world, Japan's Nikkei 225 is trading at at 23,184.93 with a loss of –0.00082% percent or –0.19 point. Hong Kong's Hang Seng is trading at 23,459.05 up with +0.79% percent or   +183.52 point. China's Shanghai  Composite is trading at 3,218.05 with a loss of –0.20% percent or –6.31 point. India's BSE Sensex is trading at 38,664.44 up with +1.57% percent or +596.51 point at 12:15 PM.The FTSE 100 closed at 5,866.10 with  a loss of –0.53% percent or –31.40 point. France's CAC  40 closed at 4,803.44 with a loss of –0.59% percent or –28.63 point.Germany's DAX closed at 12,760.73 with a loss of –0.51% percent or  –65.09 point.
Thursday's Factors and Events
Johnson, when pressed, refused to outright endorse Trump, instead saying as a longtime corporate executive he knows how the president will react to important issues of the day such as coronavirus and he does not have a handle on Biden would run the country.
"I know what President Trump has done and what he's said he will do. I don't know what Vice President Biden has said he will do other than masks, listen to the scientists," the 74-year-old Johnson said. He suggested the coronavirus response should weigh the tradeoffs of "pandemic safety" versus "economy growth."
Wednesday Activity
For the day The Nasdaq Composite is trading at 11,167.51 up with  0.74% percent or +82.26 point.the Dow is trading at 27,781.70 up with +1.20% percent or  +329.04 point. The S&P 500 is trading at 3,363.00 up with 0.83% percent or +27.53 point.

Other leading market index closes included the small-cap Russell 2000 Index closed at 1,507.69 up with +0.20% percent or +2.96 point; the S&P 600 Small-Cap Index closed at 855.27 up with +0.22% percent or +1.92 point; the S&P 400 Mid-Cap Index closed at 1,861.29 up with 0.68% percent or  +12.50 point; the S&P 100 Index closed at 1,560.58  up with +0.96% percent or  +14.86 point; the Russell 3000 Index closed at 1,968.09 with +0.77% percent or +15.05 point; the Russell 1000 Index closed at 1,872.70 up with +0.80% or +14.95 point