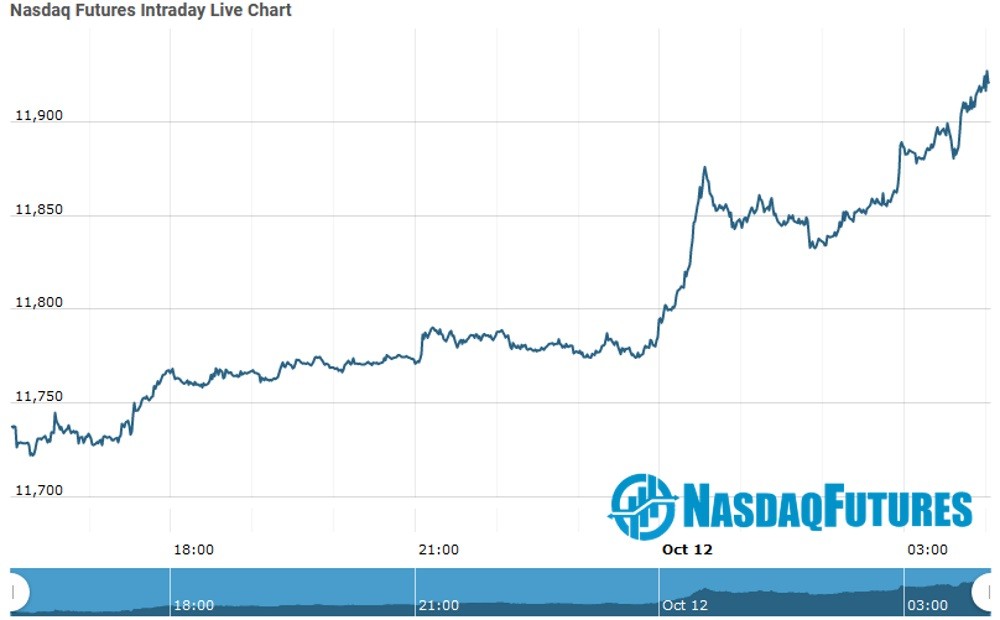 U.S. stock lower in pre-market trading for,Oct 12.The Nasdaq Futures is trading at 11,855.00 up with +1.11% percent or +130.25 point.The Dow Futures is trading at 28,515.00 with a loss of -0.01% percent or -3.00 point.The S&P 500 Futures is trading at 3,484.38 up with +0.32% percent or +0.32% point.
In other parts of world, Japan's Nikkei 225 is trading at at 23,558.69 with a loss of –0.26% percent or –61.00 point. Hong Kong's Hang Seng is trading at 24,672.47 up with +2.29% percent or  +553.34 point. China's Shanghai  Composite is trading at 3,357.27 up with +2.60% percent or +85.19 point. India's BSE Sensex is trading at 40,610.64 up with +0.25% percent or  +101.15 point at 12:15 PM. The FTSE 100 closed at 6,016.65 up with +0.65% percent or +38.62 point. France's CAC  40 closed at 4,946.81 up with +0.71% percent or +34.87 point.Germany's DAX closed at 13,051.23 up with +0.069% percent or  +9.02 point.
Monday's Factors and Events
Trump, as the populist leader of the world's only superpower, is the greatest populist ally one could have, and so his possible defeat in the November presidential election will certainly be a massive blow to populist governments around the world that rely on either overt or tacit support by the Trump administration," Erin Kristin Jenne, professor of International Relations at Central European University in Vienna, told CNBC
Friday Activity
For the day The Nasdaq Composite is trading at 11,579.94 up with +1.39% percent or +158.96 point.the Dow is trading at 28,586.90 up with +0.57% percent or  +161.39 point. The S&P 500 is trading at 3,477.13 up with +0.88% percent or  +30.30 point.

Other leading market index closes included the small-cap Russell 2000 Index closed at 1,637.55 up with 0.55% percent or +9.00 point; the S&P 600 Small-Cap Index closed at 926.19 up with +0.45% percent or +4.12 point; the S&P 400 Mid-Cap Index closed at 1,996.36 up with +0.24% percent or   +4.82 point; the S&P 100 Index closed at 1,604.76 with +1.07% percent or  +17.03 point; the Russell 3000 Index closed at 2,047.36 up with +0.86% percent or +17.46 point; the Russell 1000 Index closed at 1,943.01 up with +0.88%  or +16.94 point.