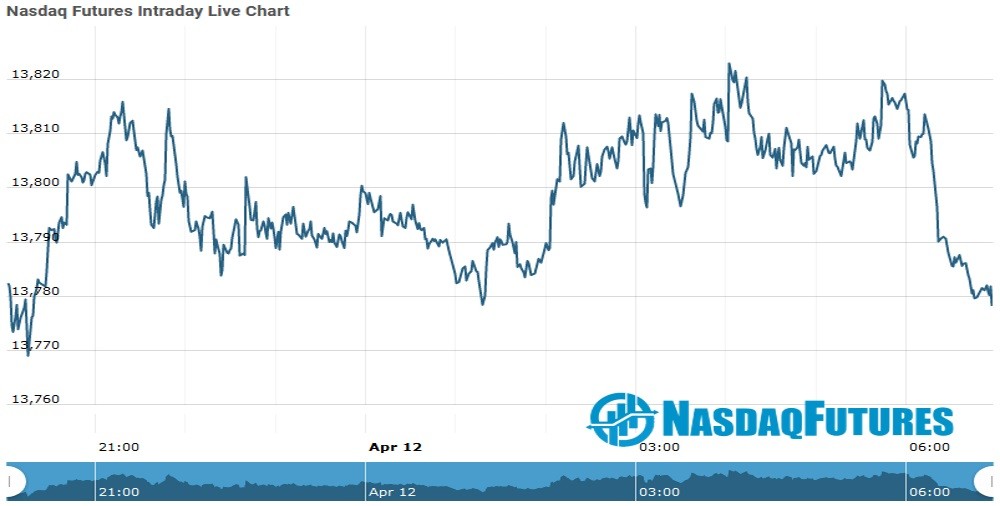 U.S. stock lower in pre-market trading for,april 12.The Nasdaq Futures is trading at 13,729.40 with a loss of -0.13% percent or -18.37 point.The Dow Futures is trading at 33,457.00 up with +0.20% percent or +67.00 point.The S&P 500 Futures is trading at 4,110.38 with a loss of -0.22% percent or -9.12 point.
In other parts of world, Japan's Nikkei 225 is trading at at 29,578.26 with  a loss of –0.64% percent or ?189.80 point. Hong Kong's Hang Seng is trading at 28,392.24 with a loss of –1.07% percent or –306.56 point. China's Shanghai  Composite is trading at 3,413.12 with a loss of –1.09% percent or ?37.56 point. India's BSE Sensex is trading at 48,101.71  with a loss of –3.03% percent or –1,500.44 point at 12:15 PM.For the day the FTSE 100 closed at 6,915.75 up with 0.38% percent or ?26.47 point. France's CAC  40 closed at 6,169.41 up with +0.060% percent or +3.69 point.Germany's DAX closed at 15,234.16 up with +0.21% percent or +31.48 point.
Monday's Factors and Events
For better or worse, airline travel is on its way back. With Delta Airlines announcing that it will return to 100% capacity on individual flights beginning May 1, and the Transportation Security Administration reporting the busiest air travel day in March since before the pandemic, travelers may soon be back to full, cramped flights.
But the aviation industry is still innovating.
Winners of the recently announced Crystal Cabin Awards (meant to be announced in January 2020 but delayed because of the pandemic) created new concepts for airplane cabins with an eye to useful, problem-solving and modern solutions.
Friday Activity
For the day The Nasdaq Composite is trading at 13,900.19 up with +0.51% percent or  +70.88 point.the Dow is trading at 33,800.60  up with +0.89% percent or +297.03 point. The S&P 500 is trading at 4,128.80 up with 0.77% percent or +31.63 point.

Other leading market index closes included the small-cap Russell 2000 Index closed  at 2,243.47 with +0.04% percent or +0.88 point; the S&P 600 Small-Cap Index closed at 1,334.56 up with +0.18% percent or  +2.43 point; the S&P 400 Mid-Cap Index closed at 2,670.52 up with +0.48% percent or +12.63 point; the S&P 100 Index closed at 1,882.89 with  +0.85% percent or  +0.85% point; the Russell 3000 Index closed at 2,471.10 up with +0.67% percent or +16.40 point; the Russell 1000 Index closed at 2,325.64 up with +0.71% or +16.49point