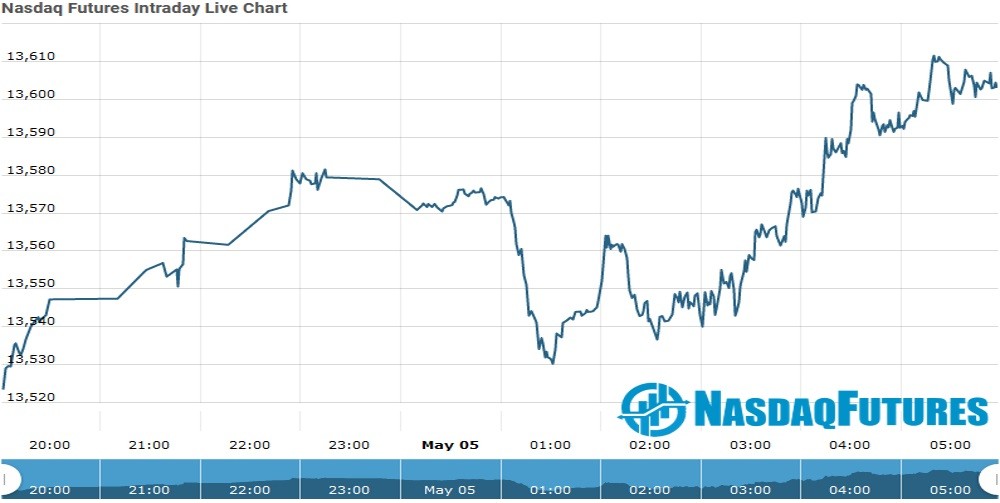 U.S. stock higher in pre-market trading for,May 05.The Nasdaq Futures is trading at 13,599.80 up with +0.55% percent or +74.00 point.The Dow Futures is trading at 34,113.00 up with +0.27% percent or +97.50 point.The S&P 500 Futures is trading at 4,173.62 up with +0.37% percent or +15.37 point.
In other parts of world, Japan's Nikkei 225 is trading at at 28,812.63 with a loss of –0.83% percent or –241.34 point. Hong Kong's Hang Seng is trading at 28,443.87 with a loss of –0.40% percent or ?113.27 point. China's Shanghai  Composite is trading at 3,446.86 with a loss of –0.81% percent or –28.04 point. India's BSE Sensex is trading at 48,421.99 up with +0.35% percent or +168.48 point at 12:15 PM.For the day the FTSE 100 closed at 6,923.17 with a loss of –0.67% percent or ?46.64 point. France's CAC  40 closed at 6,251.75 with a loss of –0.89% percent or ?56.15 point.Germany's DAX closed at 14,856.48 with a loss of –2.49% percent or –379.99 point.

Wednesday's Factors and Events
"As long as more companies take doge for products/services, then Doge can be a usable currency because it MAY hold its purchasing value better than a $ in your bank," Cuban said in a May 2 tweet. "If interest rates skyrocket or the amount spent falls or stagnates, so will Doge. Yes, a joke is now legit."
Even amid the record rally, experts caution investors from jumping into dogecoin just to make money. Cryptocurrencies are highly volatile, meaning that the current streak could reverse at any point.
Tuesday Activity
For the day The Nasdaq Composite is trading at 13,962.68  with a loss of –0.85% percent or –119.86 point.the Dow is trading at 33,874.85  with a loss of –0.54% percent or –185.51 point. The S&P 500 is trading at 4,181.17 with a loss of –0.72% percent or –30.30 point.

Other leading market index closes included the small-cap Russell 2000 Index closed  at  2,248.29 with a loss of -1.28% percent or -29.17 point; the S&P 600 Small-Cap Index closed at 1,354.41 with a loss of -0.48% percent or  -6.55 point; the S&P 400 Mid-Cap Index closed at 2,730.97 with a loss of –0.34% percent or ?9.40 point; the S&P 100 Index closed at 2,730.97 with a loss of –0.34% percent or  ?17.06 point; the Russell 3000 Index closed at 2,489.30 with a loss of –0.79% percent or ?19.75 point; the Russell 1000 Index closed at 2,343.64 with a loss of -0.75% or ?17.75 point