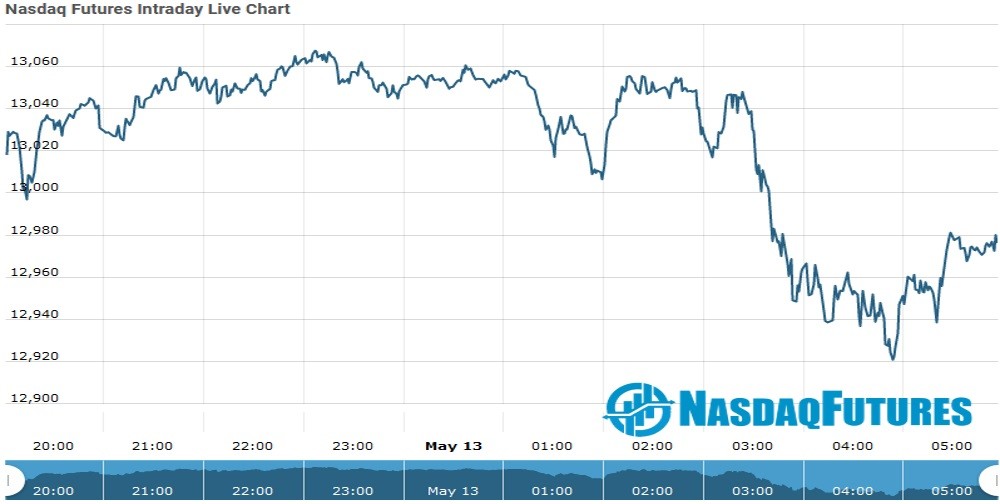 U.S. stock lower in pre-market trading for,May 13.The Nasdaq Futures is trading at 13,275.20 with a loss of -0.53% percent or -70.75 point.The Dow Futures is trading at 34,058.50 with a loss of -0.36% percent or -124.50 point.The S&P 500 Futures is trading at 4,132.88 with a loss of -0.32% percent or -13.37 point.
In other parts of world, Japan's Nikkei 225 is trading at at 28,183.33 with a loss of –1.48% percent or?424.19 point. Hong Kong's Hang Seng is trading at 28,058.18 up with +0.16% percent or +44.37 point. China's Shanghai  Composite is trading at 3,453.63 up with +0.34% percent or +11.79 point. India's BSE Sensex is trading at 48,743.92 with a loss of –0.85% percent or ?417.89 point at 12:15 PM.For the day the FTSE 100 closed at 6,947.99 with a loss of –2.47% percent or ?175.69 point. France's CAC  40 closed at 6,267.39 with a loss of –1.86% percent or ?118.60 point.Germany's DAX closed at 15,119.75 with a loss of –1.82% percent or –280.66 point.

Thursday's Factors and Events
Tesla CEO Elon Musk said Wednesday on Twitter that Tesla has "suspended vehicle purchases using bitcoin," out of concern over "rapidly increasing use of fossil fuels for bitcoin mining."
The price of bitcoin dropped about 5% in the first minutes after Musk's announcement.
In an SEC filing in February, Tesla revealed that it bought $1.5 billion worth of bitcoin and it may invest in more of bitcoin or other crypto currencies in the future.
wednesday Activity
For the day The Nasdaq Composite is trading at 13,752.24 up with +0.88% percent or +119.39 point.the Dow is trading at 34,777.76 up with +0.66% percent or +229.23 point. The S&P 500 is trading at 4,232.60 up with +0.74% percent or +30.98 point.

Other leading market index closes included the small-cap Russell 2000 Index closed  at 2,135.1 with a loss of -3.26% percent or -71.85 point; the S&P 600 Small-Cap Index closed at 1,294.40 with a loss of -3.21% percent or  -42.98 point; the S&P 400 Mid-Cap Index closed at 2,628.90 with a loss of  –3.10% percent or ?84.05 point; the S&P 100 Index closed at 1,841.42 with a loss of –2.07% percent or  –38.84 point; the Russell 3000 Index closed at 2,418.04 with a loss of –2.30% percent or ?56.95 point; the Russell 1000 Index closed at 2,280.21 with a loss of –2.23% or –52.09 point.