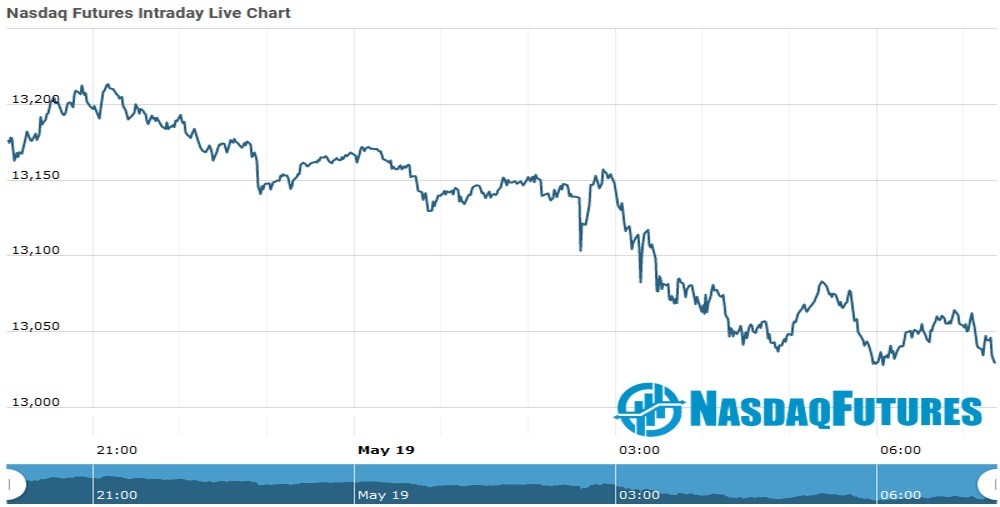 U.S. stock lower in pre-market trading for,May 19.The Nasdaq Futures is trading at 13,061.80 with a loss of -1.12% percent or -147.75 point.The Dow Futures is trading at 33,798.50 with a loss of -0.58% percent or -197.50 point.The S&P 500 Futures is trading at 4,092.38 with a loss of -30.62 percent or +13.13 point.
In other parts of world, Japan's Nikkei 225 is trading at at 27,947.11 with  a loss of –1.62% percent or ?459.73 point. Hong Kong's Hang Seng is trading at 28,593.81 up with +1.42% percent or +399.72 point. China's Shanghai  Composite is trading at 3,513.25  with a loss of –0.45% percent or ?15.77 point. India's BSE Sensex is trading at 50,049.70 with a loss of –0.29% percent or –143.63 point at 12:15 PM.the FTSE 100 closed at 7,034.24 with 0.020% percent or +1.39 point. France's CAC  40 closed at 6,353.67 with a loss of –0.21% percent or –13.68 point.Germany's DAX closed at 15,386.58  with a loss of –0.065% percent or ?10.04 point.

Wednesday's Factors and Events
DarkSide, the hacker group behind the recent Colonial Pipeline ransomware attack, received a total of $90 million in bitcoin ransom payments before shutting down last week, according to new research.
Colonial Pipeline was hit with a devastating cyberattack earlier this month that forced the company to shut down approximately 5,500 miles of pipeline in the United States, crippling gas delivery systems in Southeastern states. The FBI blamed the attack on DarkSide, a cybercriminal gang believed to be based in Eastern Europe, and Colonial reportedly paid a $5 million ransom to the group.
Tuesday Activity
For the day The Nasdaq Composite is trading at 13,752.24 up with +0.88% percent or +119.39 point.the Dow is trading at 34,021.45 up with +0.66% percent or +229.23 point. The S&P 500 is trading at 4,232.60 up with +0.74% percent or +30.98 point.

Other leading market index closes included the small-cap Russell 2000 Index closed  at 2,210.88 with a loss of -0.73% percent or -16.24 point; the S&P 600 Small-Cap Index closed at 1,341.76  with a loss of –1.11% percent or  ?15.07 point; the S&P 400 Mid-Cap Index closed at 2,690.46 with a loss of –1.03% percent or –28.04 point; the S&P 100 Index closed at 1,868.68 with a loss of –0.84% percent or  ?15.88 point; the Russell 3000 Index closed at 2,461.21  with a loss of –0.77% percent or ?19.07 point; the Russell 1000 Index closed at 2,318.11  with a loss of –0.77% or ?18.02 point.