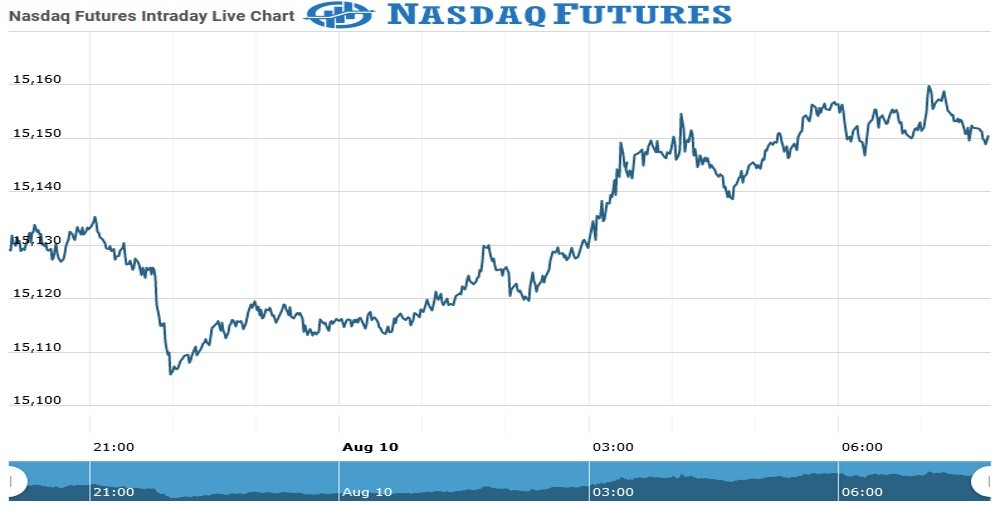 Nasdaq Futures Update : 10 August 2021
U.S. stock lower in pre-market trading for Aug 10.The Nasdaq Futures is trading at 15,153.80 up with +0.14% percent or +20.70 point.The Dow Futures is trading at 35,078.90 with a loss of -0.07% percent or -23.00 point.The S&P 500 Futures is trading at 4,431.50 with a loss of -0.02% percent or -0.90 point.
In other parts of world, Japan's Nikkei 225 is trading at 27,869.65 with +0.18% percent or +49.61 point. Hong Kong's Hang Seng is trading at 26,504.42 up with +0.84% percent or +221.02 point. China's Shanghai Composite is trading at 3,514.11 up with +0.56% percent or +19.48 point. India's BSE Sensex is trading at 54,667.74 up with +0.49% percent or +264.89 point at 12:15 PM.For the day the FTSE 100 closed at 7,132.30  up with +0.13% percent or +9.35 point. France's CAC 40 closed at 6,813.18 with a loss of –0.055% percent or ?3.78point.Germany's DAX closed at 15,745.41 with a loss of –0.10% percent or –16.04 point.
TUESDAY'S Factors and Events
Comparing the results is tricky, however, given differences in the nature of the vaccination programs in both countries (Israel gave all its adult population the Pfizer vaccine, for example, while in the U.K. there are several vaccines in use, with the Pfizer-BioNTech shot predominantly given to younger people) as well as differences in the study dates, Covid testing regimes and age groups.
MONDAY Activity
For the day The Nasdaq Composite is trading at 14,860.18 up with +0.16%the Dow is trading at 35,101.85  with a loss of –0.30% percent or –106.66 point. The S&P 500 is trading at 4,432.35  with a loss of –0.094% percent or –4.17 point.
Other leading market index closes included the small-cap Russell 2000 Index closed  at 2,234.81 with -0.58% percent or -12.95 point. the S&P 600 Small-Cap Index closed at 4,431.50  with a loss of -0.02%percent or -0.90 point. the S&P 400 Mid-Cap Index closed at 2,709.80  with a loss of –0.28% percent or –7.56 point. the S&P 100 Index closed at 2,030.04 with a loss of –0.082% percent or ?1.67 point.the Russell 3000 Index closed at 2,632.81 with a loss of –0.095% percent or –2.51 point. the Russell 1000 Index closed at 2,489.72 with a loss of  0.062% or ?1.55 point.