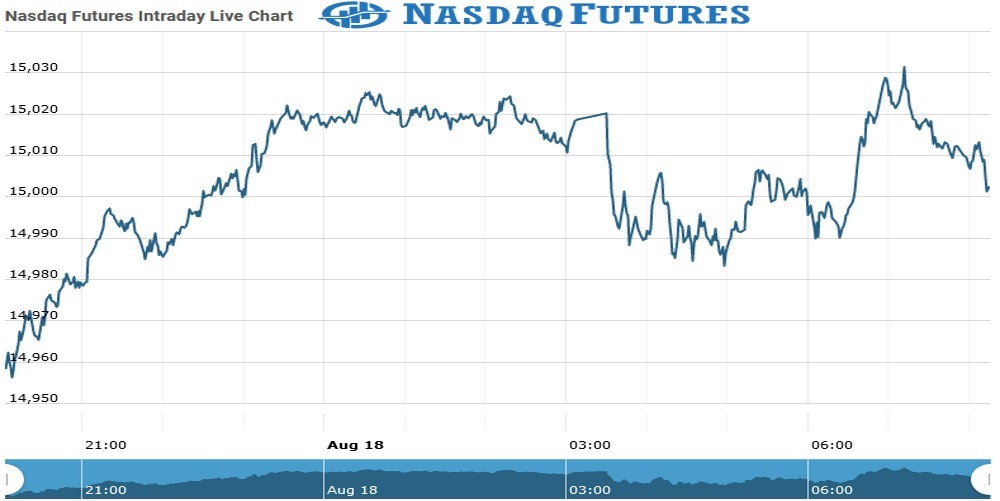 Nasdaq Futures Update : 18 August 2021
U.S. stock lower in pre-market trading for Aug 18.The Nasdaq Futures is trading at 15,021.50 up with +0.12% percent or +18.70 point.The Dow Futures is trading at 35,289.70 with a loss of -0.15% percent or -53.60 point.The S&P 500 Futures is trading at 4,446.90 with a loss of -0.03% percent or -1.20 point.
In other parts of world, Japan's Nikkei 225 is trading at 14,656.18 with a loss of –0.93% percent or –137.58  point. Hong Kong's Hang Seng is trading at 25,865.92 up with 0.47%percent or +126.30 point. China's Shanghai Composite is trading at 3,485.29 up with +1.11% percent or +38.31 point. India's BSE Sensex is trading at 55,913.88  up with 0.22% percent or +115.38 point at 12:15 PM.For the day the FTSE 100 closed at 7,181.11  up with +0.38% percent or +27.13 point. France's CAC 40 closed at 6,819.84 with a loss of –0.28% percent or –18.93 point.Germany's DAX closed at 15,921.95 with a loss of –0.024% percent or –3.78 point.
WEDNESDAY'S FACTORS AND EVENTS
During August 2021, the Company purchased $50.7 million in 100-ounce gold bars," Palantir said in the Aug. 12 earnings statement for its fiscal second quarter. "Such purchase will initially be kept in a secure third-party facility located in the northeastern United States and the Company is able to take physical possession of the gold bars stored at the facility at any time with reasonable notice."
MONDAY ACTIVITY
For the day The Nasdaq Composite is trading at 14,822.90 up with +0.045% percent or  +6.64 point.the Dow is trading at 35,515.38 up with +0.044% percent or +15.53 point. The S&P 500 is trading at 4,468.00 up  with +0.16% percent or +7.17 point. 
Other leading market index closes included the small-cap Russell 2000 Index closed  at 2,177.17 with a loss of -1.19% percent or -26.24 point. the S&P 600 Small-Cap Index closed at 1,323.39 with a loss of -1.47% percent or -19.70 point. the S&P 400 Mid-Cap Index closed at 2,692.50  with a loss of –1.19% percent or ?32.29 point. the S&P 100 Index closed at 2,040.97  with a loss of –0.75% percent or ?15.42 point.the Russell 3000 Index closed at 2,629.92 with a loss of –0.76% percent or ?20.03 point. the Russell 1000 Index closed at 2,491.20 with a loss of 0.73% or?18.23 point.