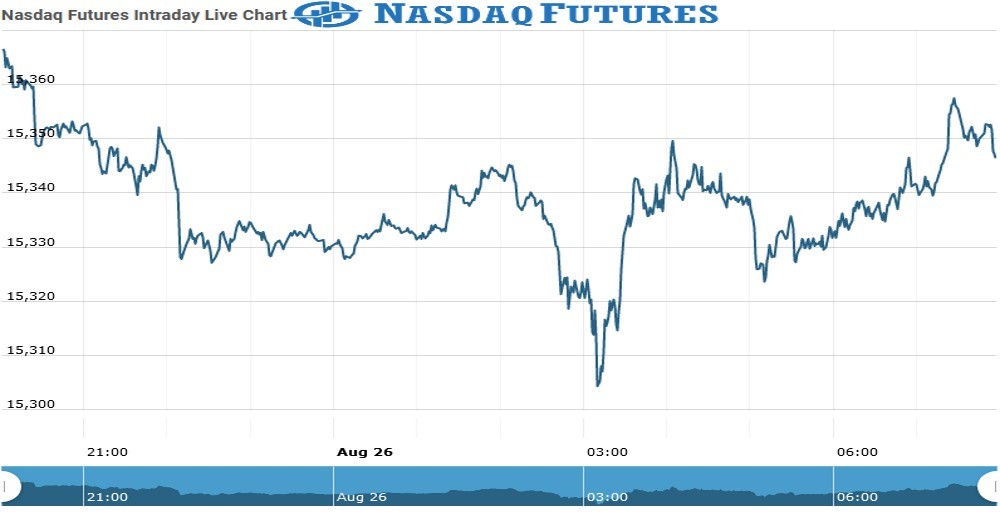 Nasdaq Futures Update : 26 August 2021
U.S. stock lower in pre-market trading for Aug 26.The Nasdaq Futures is trading at 15,344.80 with a loss of -0.16% percent or -24.10 point.The Dow Futures is trading at 35,432.70 up with +0.08% percent or +27.20 point.The S&P 500 Futures is trading at 4,493.80 with a loss of -0.05% percent or -2.40 point.
In other parts of world, Japan's Nikkei 225 is trading at 27,704.32  with a loss of –0.074% percent or 20.48 point. Hong Kong's Hang Seng is trading at 25,316.63 with a loss of –1.47% percent or –368.46 point. China's Shanghai Composite is trading at 3,522.77 with a loss of –0.50% percent or –17.62 point. India's BSE Sensex is trading at 56,092.52 up with +0.27% percent or +58.13 point at 12:15 PM.For the day the FTSE 100 closed at 7,150.12 up  with +0.34% percent or +24.34 point. France's CAC 40 closed at 6,676.48 with +0.18% percent or +12.17 point.Germany's DAX closed at 15,860.66 with a loss of –0.28% percent or –0.28% point.
THURSDAY'S FACTORS AND EVENTS
U.S. stock futures were fractionally lower in early premarket trade after the S&P 500 closed Wednesday's session at a fresh record high.
The Fed's Jackson Hole symposium kicks off Thursday. Markets will be watching Friday's closing remarks from Chairman Jerome Powell for indications on when the central bank may start tapering its monetary stimulus program.
WEDNESDAY ACTIVITY
For the day The Nasdaq Composite is trading at 15,041.86 up with +0.15% percent or +22.06 point.the Dow is trading at 35,405.50 up with +0.11%percent or +39.24 point. The S&P 500 is trading at 4,496.19 up with +0.22% percent or +9.96 point. 
Other leading market index closes included the small-cap Russell 2000 Index closed  at  2,239.27 up with +0.37% percent or +8.36 point. the S&P 600 Small-Cap Index closed at 1,351.86 up with +0.39% percent or +5.31 point. the S&P 400 Mid-Cap Index closed at 2,741.39 up with 0.56% percent or +15.23 point. the S&P 100 Index closed at 2,062.68 up with +0.082% percent or +1.69 point.the Russell 3000 Index closed at 2,666.48 up with +0.27% percent or +7.18 point. the Russell 1000 Index closed at 2,523.40 up with +0.26% or +6.62 point.